We received the following email from Tsuge Pipe this morning at 6:19 am.
Dear Sirs,
I regret to inform you that Kyoichiro Tsuge founder of TSUGE PIPE passed away early this morning (dated 2nd Nov).
Kyoichiro Tsuge was 99 years old. He is father of Sab Tsuge.
Dates:
5th Nov Friday 18:00-19:00
6th Nov Saturday 11:00-12:00
Place:
Higashi-Honganji
Nishi-Asakusa 1-5-5, Taito-ku, Tokyo
Tel +81-03-3843-9512
Chief mourners:
TSUGE PIPE CO.,LTD.
Toshinori Tsuge
PipesMagazine.com offers it's sincerest condolences to the Tsuge family and company.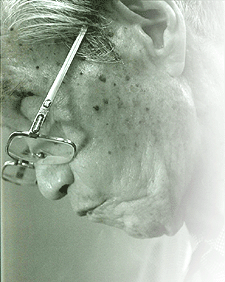 For at least two centuries, the Tsuges has been a family of highly skilled and elite craftsmen. Originally, the Tsuge family fashioned swords for samurai and their craft earned them status in Japanese society.
Kyoichiro Tsuge, head of the Tsuge Company, was born in 1910. His father managed the cigarette plant of Towa Tobacco Company in Seoul, Korea. At age thirteen, Kyoichiro was orphaned. He returned to Japan and lived with an uncle. He became an apprentice at a cigarette holder manufacturer where he learned to craft ivory cigarette holders. When Tsuge turned twenty-six, he married and started his own cigarette holder making business, specializing in ivory. After World War II, Tsuge returned to Tokyo and resumed his business. Since Japan had no cigarettes, he began making pipes. Briarwood was not available in Japan following the war, but high-quality cherrywood was common. His company also made ivory souvenirs and tobacco accessories.
Today, the Tsuge Company has branched out and Tsuge's three sons assist him in running the company. Tsuge has two factories that produce machine-made pipes and a workshop that produces the "Ikebana" line of very fine hand-crafted pipes.
The Tsuge handmade pipe is meticulously crafted. Traditional means are still practiced but the machinery has changed a little, as a computer-driven lathe turns the Tsuge bowl with an accuracy of two one-thousands of a millimeter. Only one to two pipes are made each day.
Tsuge makes very traditional classic pipes and freehands with a Danish appearance. The pipes are available in a variety of shapes and finishes (including sandblast), and many have bamboo inserts. Both the classic shapes and freehands are beautifully made and balanced. The briar is carved to bring out the best in the grain. To glance at the pipes, you would think S. Bang, Lars Ivarsson or Jess Chonowitsch carved them. Retails prices for the Ikebana line are $200 to $8,400.1
1. Pipe Companion: A Connoisseur's Guide
By David Wright
8 Responses