Interview with Kevin Godbee, Founder of PipesMagazine.com
Interview with Kevin Godbee, Founder of PipesMagazine.com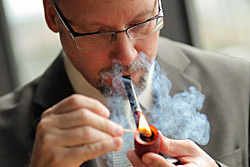 I've interviewed several people over the past years and decades in many different roles and endeavors, but nobody has ever interviewed me … until now. Olie Sylvestor is an artist, graphic designer, pipe maker, father, husband, and all around really cool guy. He also has been producing the OomPaul Podcast for several years, and I was honored that he asked me to do an interview.
We mostly talk about the PipesMagazine.com business, and there are several background, behind-the-scenes stories that have never been told, which you may find interesting. At the end of the interview, Olie asked me some personal questions, and the answers may surprise you.
Take a listen and let me know what you think. The following link is the intro to the interview. After the brief intro, there is a link to the MP3 file with my interview, along with two other links; The NPR show I was on, and my interview with Mad Men actor Michael Gladis.
Click Here for the Kevin Godbee Interview
Alternatively, the OomPaul iTune channel is here
More Pipes and Tobaccos Articles
3 Responses