Please welcome back Pipe Babe Coley for her 2nd appearance. We introduced you to her in December 2014. Coley has beautiful, luxurious, long hair down to her derriere, and she frequently serves drinks to PipesMagazine.com publisher, Kevin Godbee. Coley has been bartending for 14-years, and is a Florida native. With the hot, humid FL weather and her long hair, she frequently puts it into a ponytail, which is named Penelope—Godbee's martini-fueled idea. Speaking of names, her pet Yorkie is named Mr. Oliver Ruggles.
As if it's not cool enough that she smokes a pipe, she used to have her own jewelry line called Cole 45. All of the designs involved bullet casings from guns that she actually shot. She says; "I also shoot primitive bows and arrows and other kinds of stuff." One of her favorite animals are snails. "I have loved them since I was a kid and I have 7 pet snails." Her drink of choice is Jim Beam Bourbon, and her tobacco favorites are English and Virginia.
Coley hopes to retire by owning a doggie daycare "so I can play with furry babies all day long." When she turned 30, she got rid of all of her belongings and drove to California and back "just to see the country." She has a passionflower tattoo on her left wrist, her favorite band is Pink Floyd, and her hair is naturally purple. This shoot was done at Central Cigars in St. Petersburg, FL. Coley is smoking a Dunhill 1961 Shell Briar (Group 4) pipe from Godbee's personal collection. Photos by Barry Lively of B. Lively Images. Hair & Make-up by Brittany Addison.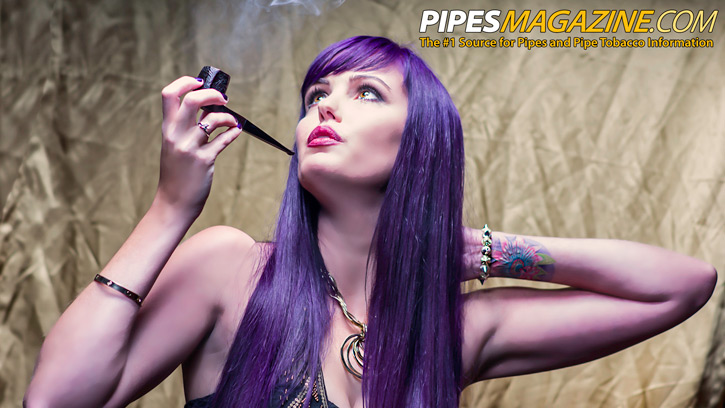 Written by Kevin Godbee
Publisher & Founder of PipesMagazine.com Certified Master Tobacconist (CMT) #1858 from TobacconistUniversity.org
My grandfather didn't smoke a pipe, but my uncle and some of my elementary school teachers did. In 1998, my neighbor Sam invited me out, and we ended up back at his place where there was a cigar humidor, and pipe rack on the coffee table. I had my first cigar, and then decided to try pipes too. I love the elegance and relaxation of smoking a pipe. In 2002, I started learning how to make websites, do SEO, and create content. I had a cigar content site and forums from 2005-2008 when it was bought out. In 2009, I launched PipesMagazine.com, which is now the largest, busiest community forums, and article content site for pipe and tobacco enthusiasts. We have one of the longest running pipe and tobacco focused podcasts since 2012 with lifetime industry veteran, Brian Levine.
View all posts by: Kevin Godbee
More Pipes and Tobaccos Articles
Comments are closed
Smokingpipes.com Updates
Watch for Updates Twice a Week
Site Sponsors
Recent Posts
November 13, 2023

Musings on Pipe Clubs and Pipe Sizes

Saturday, I spent a wonderful day at Ohlone Cigar Lounge in Fremont, CA, sharing the stage with the ever charming Joe Fabian, who was doing a "Trunk Show" of Savinelli and Peterson pipes, which evolved into being as much of a pipe club experience as it was a sales event. It was a great opportunity to spend time with a bunch of folks talking about pipes, tobacco, food, cars, the joys of rigid-frame mountain bikes, and pretty much anything else that came up. To me, this sort of fellowship is one of the best things about pipe gatherings, and I certainly look forward to doing more in-store events in the future! At one point some of us had a conversation about why we tend to prefer one size or bowl shape to another, and we all had different views to share. Some choose pipes for their weight or their balance, others for their aesthetics, still others for capacity. This got me thinking about my own collection. While some may have very specific criteria, and their pipes exhibit a certain sort of "sameness," my collection exhibits a pretty broad range of shapes and sizes from tiny to cavernous, and each has its place. For me, choosing the pipe I want to smoke is often as much a practical decision as it is one of whim and whimsy. On the practical side, one thing that often comes up for many of us is whether or not there is time to spend with a large bowl. For me, a certain irony arises in that decision process all too often; I think I don't have time for a long smoke, but end up burning two small bowls instead, consuming as much time as the larger bowl would have, if not more. My whacky brain is now swirling with something almost too geeky to discuss, but I'm going to anyway. If you had, let's say, a finite amount of tobacco and wanted to maximize your smoking time, would you be better off with smaller bowls or larger ones, especially wide, squat bowls vs. narrow, tall ones? How would you choose which pipe or pipes to smoke? Tall, narrow bowls filled with the same weight of tobacco seem to have a slight edge over wide, squat ones, at least with respect to time alight. As an informal experiment tonight, I chose a Castello 55 weighing in with a chamber diameter of 23mm and depth of 35mm, and my Sea Monster bent, with its 18mm x 53mm chamber. I chose these two because they are both exquisite smokes, and have similar chamber volumes. Each was filled with the same 2g weight of a VA tobacco, packed with a gravity fill followed by a very light tamp. The Castello gave up after 32 minutes. The Sea Monster lasted 40. I guess if you were stranded on that often discussed island, and maximizing your smoking time was an important consideration, you'd be better off with the tall, narrow bowl. But smoking time is certainly not all there is to consider in selecting a pipe to smoke; other differences are at least, if not more important, especially if maximizing enjoyment is the intention. Not surprisingly, the taste of the same tobacco from each of these two bowls was quite different. The smoke from the pot was a little sweeter, a little more complex, while the taller bowl delivered a brighter, more zesty flavor. In this case, both were delightful, but that hasn't always been true. Is there such a thing as "the right" bowl geometry for any given tobacco type? Opinions are as varied as we are, but for me, flakes tend to sing in wider bowls, delivering nuances of flavor that can be somewhat attenuated in a narrow one. Yes, this is counter to the "conventional wisdom" that pipes with narrow, tapered bowls are "Flake pipes," and large bowls are better suited as "English mixture pipes." Though I'd never question another's preferences, I'm comfortable taking the contrarian position here with respect to my own. Years ago, when I was developing my first VA/Perique flake, I did what I always do, and smoked the prototypes in a variety of bowl geometries. One of the pipes I chose during my exploration was a GBD 9493, a lovat-like pot with a wide aperture and conventional billiard height. The tobacco took the center stage spotlight and sang arias in that pipe. Since, I've repeated the experiment many times, always with the same result. If you want to experience everything a flake has to offer, try it in a pot. Wide bowls also offer something to the burly aficionado, bringing out some of the more subtle nuances of that leaf while keeping the smoke cool. Things get perhaps more interesting when it comes to bowl height. Since tall bowls tend to concentrate more of the distillates that form when tobacco burns, they can be both harder to keep lit at the bottom, and can intensify some flavors. This can be a good or a not so good thing, depending on the tobacco type, and the smoker's preferences. I love shag cut tobaccos in tall bowls, while flakes are just too often challenging. Too, I find that fuller latakia mixtures deliver their best in medium and smaller bowls. This might have more to do with "palate fatigue" than the smoking dynamics of a particular pipe's bowl geometry. (Truth told, unless I'm really focused on the process, I rarely could be considered a "slow smoker," and as my cadence rises, so does the intensity of some of latakia's less friendly characteristics, especially as the bottom of the bowl is reached. Combine that with a tall bowl, and my tongue just gets fuzzy.) But, I've known many who enjoy gigantic bowls of heavy lat-bombs. Maybe this is one reason the "conventional" medium billiard bowl is, and has always been so popular. It's kind of the middle-ground – not too tall, not too wide, and does pretty […]