What do you all happen to smoking today? I have seen " what are you wearing today " posts in the watch forums that I visit at times. Wondering if it would be fun to do something like that here.
I happened to be looking through my pipes this morning, and came across this old friend I have been neglecting for a good while. So I thought I would enjoy it today.
I also happened to bring out some Half and Half that I haven't smoked in ages. So far they have been exactly what I was in the mood for this morning.
This is a big Charatan Executive. I think it's a slightly bent Dublin in shape. A full 6 1/2 in. long, whith a bowl that is almost 2 1/2 in. tall. Charatan certainly wasn't shy about their bowl sizes or shapes. ( I think they must have really irked Dunhill to no end. Lol)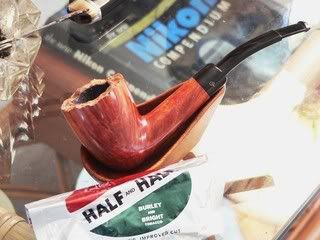 If you would also post a picture of your pipe and tobacco it will be a lot more interesting. We all like to see pictures.