Just wanted to share some experiences with artisan pipes I own. Note I purchased all of these as estates, so I cannot comment on commission experiences. You can use this for info or share your own experiences.
In no particular order:
Grant Batson: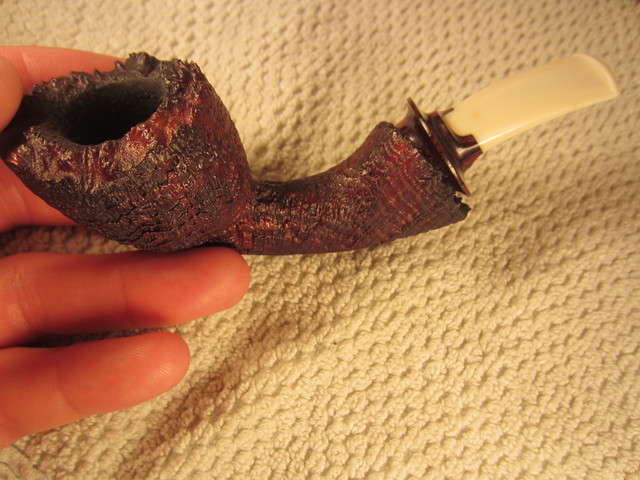 The shaping/aesthetic is excellent. The blast is good but not especially deep. Draw is open and passes a cleaner. Smoke is very good. This is one of his typical stems, with wide saturn ring. My one complaint about this pipe is the stem is difficult to remove. The tenon is huge and needs a lot of force to be turned/twisted out. The rest of the stem is great, button is very comfortable(3.8mm thickness) and the slot is a well cut deep flared oval.
Ryan Quagliata: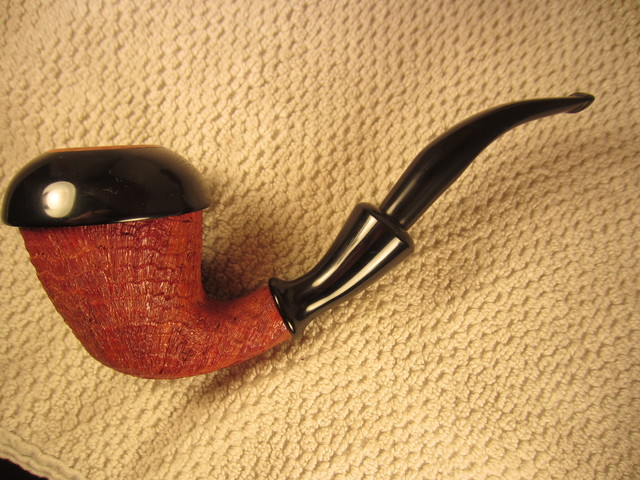 Note that Ryan may no longer be making pipes at this time. I fell in love with this pipe, having always wanted a briar calabash. So far though, this pipe has been a bit of a disappointment. I wouldn't necessarily count this one against the rest of his work, which is said to be excellent and great smokers. This may have just been a difficult shape or chalk it up to inexperience. The ebonite ring on the removable bowl came loose within the first couple of smokes. I sent it out to be repaired which really didn't cost much, I just wanted it done professionally. The pipe also smokes wet, most likely an engineering issue, but the pipe passes a cleaner so can be fixed during the smoke. Blast is very good, nice ring grain although still not super crag. Draw is open. Stemwork is very good, although not a clenchable weight pipe. Button is a little thick at 4.5mm but slot is well cut flared oval and deep.
Ruthenberg: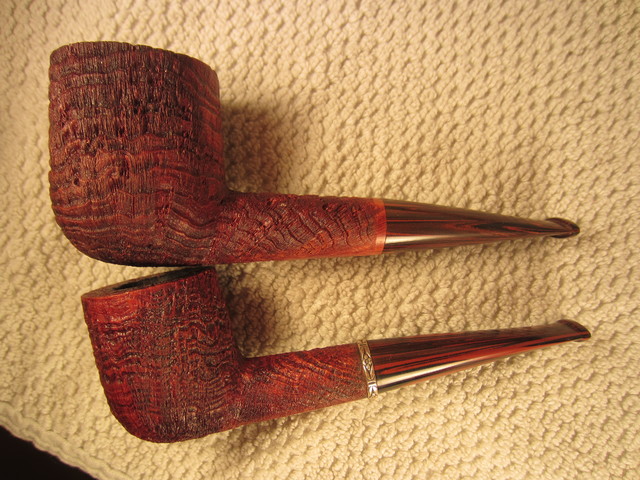 Brian is well known for having a super open draw in his pipes. His stem slot is the largest I have seen, a full oval deep cut slot. His blast work varies a bit. The larger pipe has a great blast, with a unique texture/hand feel unlike any other. He sometimes equates this with a needle-like quality in his own descriptions, when the grain sticks out the side like a stack of needles(not with the points out). It really is a thing to be held when done well. He doesn't achieve this with every pipe though. The lower one the blast is decent but significantly less deep and without the needle-like quality. The shaping is excellent, although his aesthetics sometimes are a bit off IMO. The smoke quality is great, although because the airway is so large, chunks can fly through toward the end of the bowl so be prepared. Stemwork is good, note the larger pipe, the mortise is a little off-center you can tell when the stem isn't turned correctly, the other one it is centered. His tenons are particularly long(11/16" and 13/16" for these two), which can make for difficult stem removal. Button thickness is good(4.1mm to 4.25mm), although I have never found his pipes to be very clenchable/comfortable. This is fine if you want a nice large pipe you don't plan on clenching anyway, and all the better to be a hand pipe if you get the textured blast.
Talbert: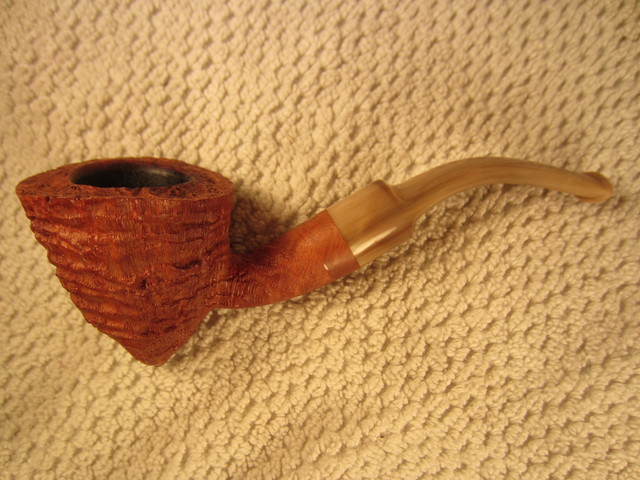 Ok so this is a Ligne Bretagne Collector pipe, and an older one(2007) from before he moved back to the US, for whatever all that is worth. One thing to note is the horn stem, I'm really not sure how this would compare to other stem materials he uses. I love Trever's work, and may get a Goblin someday. Funny enough, his Talbert line of pipes are my least favorite aesthetically. On to this pipe, which has an absolutely fantastic blast. Very craggy deep blast ring grain. Open draw, slot is a rounded rectangle, although I believe his horn stems are purchased pre-made and then he fits them to the pipes. I love horn stems, FYI. This one is a little thick at the button(5.6mm), but funny enough I find this easier to clench than my lighter Ruthenberg. I attribute this to the width of the stem, this one is 1/2" wide and the Ruthenberg is 5/8" at the button. This pipe smokes great, open draw, absolutely no complaints. On a side note, I have another more recent Ligne Bretagne grade 4, and the button thickness is 4.2mm. This pipe also smokes well, but not as well as my Collector, it tends to get a little hot.
Rad Davis: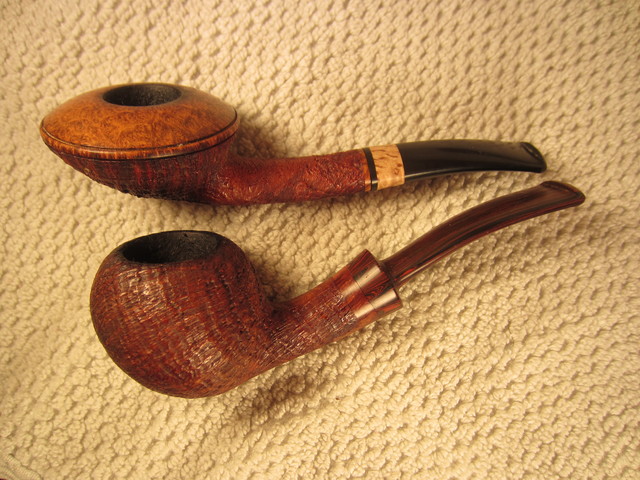 First ballot hall of fame pipe maker Rad Davis is up the the plate. Fit/finish/aesthetics/stemwork are all excellent. Button are both 3.8mm thickness and very comfortable. Blast is very good. Note the second pipe is an older Rad, before he started dating the pipes. It was a smooth finish that had a flaw in it. It always kinda bothered me so I sent it to him to get blasted. I think I have bad luck with Rads though, for as perfect as they are in every way, these two never wowed me in smoke quality, but I only have two and many people champion the smoking quality of his pipes.