The description from the website:
If you are talking about traditional tobacco blending, twisted tobacco has to be mentioned. In
former times, tobacco was spun into an endless roll and then cut in order to increase durability.
Nowadays this special production process only plays a significant role with regard to taste.

The traditional Virginia/Perique Curly Cut forms its basis, being in prime condition as a rope,

before cut into curlies. The very expressive and sweet Virginia grades in connection with a

strong Perique core of the Curly Cuts make an interesting blend, together with the Burley grades

and the sugary Virginia Loose Cut. Underlining the robust and elemental character of this

Director's Cut, a whiff of fire-cured Virginia renders the final touch to this blend.The result is a

slightly sweet and spicy blend, surprising with tremendous varieties in taste. The Director's Cut is

attractive for those who are looking for the very special taste adventure. …strong, spicy, multi-layered
Nicotine: 4

Aromatisation: --

Flavor: natural

Chart: 1 (light) to 6 (strong)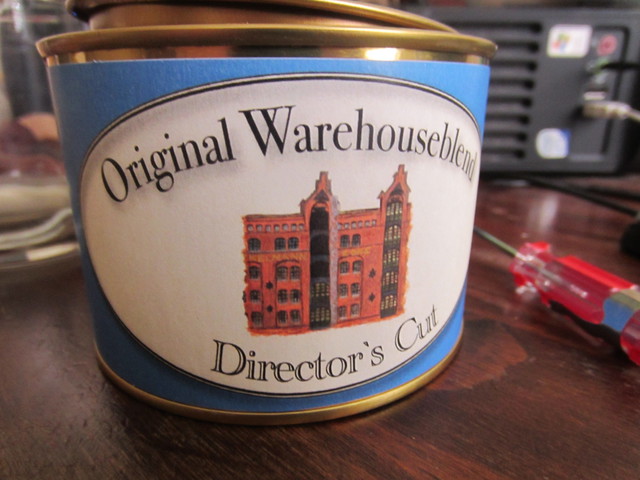 It comes in a 100g tin with an interesting pop lid feature which is recloseable. I don't believe this is vacuum sealed but it is airtight so far as I can tell.
The tin aroma is a little sweet/fruity, a little spice with an afternote of smoke. The smoke note is most interesting, it is different than latakia leaf aroma, very light but noticeable right at the end of a sniff.
The cut is one of a kind. As noted from the description, the base is the curly cut, which are quite small, perhaps 1/2"-3/4" diameter. Also mixed in is the Virginia loose cut as well as some broken flake, which I imagine is the fire cured virginia and/or burley. This will make for perhaps some flavor variation depending on which parts you pack more of in a bowl. You can see all the different parts in this picture: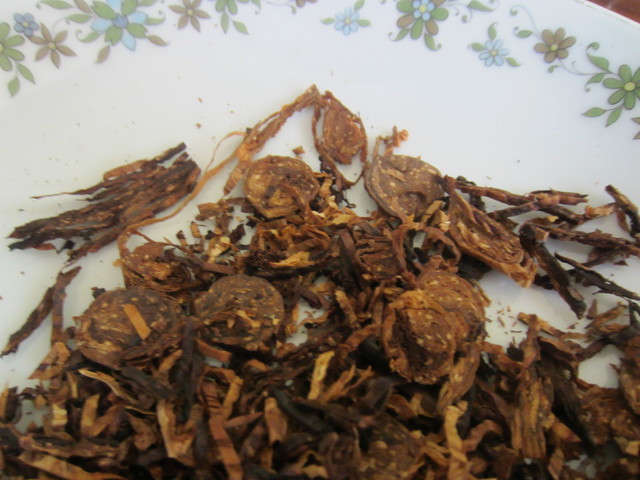 It does not come very moist but the fresh smoke revealed it did need a bit more drying time. I dried it for a couple hours, occasionally stirring the cuts to expose them to the air.
I packed up a Grant's Tanshell straight bulldog, which has a wide open draw and has been a good smoker for me. I grabebd a couple random pinches with the different cuts mixed in and finished off the top with some of the loose cut. The tobacco lights easily with an initial sweet flavor, one good char and then a true light. Gee, I packed the Virginia loose cut on top and that is what I tasted first. I'm a genius!! 8O The virginias are very good quality, sweet and more to the golden color that I like. In the first third, I'm tasting mostly the loose cut virginia sweetness with perhaps a little citrus, and then a background flavor begins to come into play. Must be my first coin burning! In the second third, there is a richer deeper flavor developing. I get my first sneeze, which is an indicator of perique for me. The up front sweetness is dwindling while the deep notes are growing. I begin to notice the nicotine a little. In the last third, the fire cured virginia starts to impart a burelyish nuttiness, which I quite enjoy in this case. I don't particularly enjoy a whole bowl of nuttiness but it melds well in this, coming in the last third and mingling with the deep/rich notes that started in the second third. I don't have a complete grasp on the nuance flavors yet, without enough experience with the blend yet. Just to re-emphasize, due to the different cuts, this will vary from bowl to bowl depending on how you pack it. I did really enjoy it with a little of the ribbon on top which kickstarted the bowl with the Va sweetness and made it easy to light. I give it a medium/medium on the flavor/nic scale. Excellent burn characteristics, and easy on the tongue. This blend is every bit as good as the initial reviews have promised.