So, I am on a business trip to Chicago. This, in and of itself, is probably uninteresting, except that I live in a very rural area with no real pipe carrying B&M stores around. I made the connection in my head as I was packing that the storied Iwan Ries B&M was in Chicago and I decided to raid the empty tin of Briar Fox where I squirrel away funds that I methodically embezzle from my household for pipe purchases. As I was traveling I poured over their website looking for a pipe that matched my liking and, equally important, matched the amount of money I had embezzled. I have been on an Italian rusticated or sandblasted pipe kick of late, due in part to the chunky beauty of the designs and in part due to the fact that I may occasionally smoke my flake hot and I have been liking the practicality of the roughed up finishes in keeping the pipe cool in my hand.
I saw a beautiful Radice pipe on their website and it matched my current tastes: a Rind, it was rusticated, a billiard, but pretty unique in shape and style. Alas, it was significantly more than I had squirreled away and I decided to just go to the shop and look around. When I finished my business here, a friend and I decided to go down and take a look at the shop. When we got there the first pipe I saw was that lovely Rind looking right back at me, so I asked to see it. What the heck, I thought, I'll ask to look at it. When the exceptionally pleasant salesman showed it to me (and I mean that - really nice folks there) I looked at the price and I'll be damned if it wasn't on sale for less than they had on the web site. Not only that, but the sale price was exactly - and I mean exactly, the amount I had embezzled through a small cash back here, keeping the change from there, a small travel reimbursement from work elsewhere.
I had to pay for the tax and, of course, a tin of baccy with a credit card, but I can rationalize that with the explanation that I had to buy something from the oldest family owned tobacco shop in the United States. Even my Wife would get that. And voila, my newest pipe!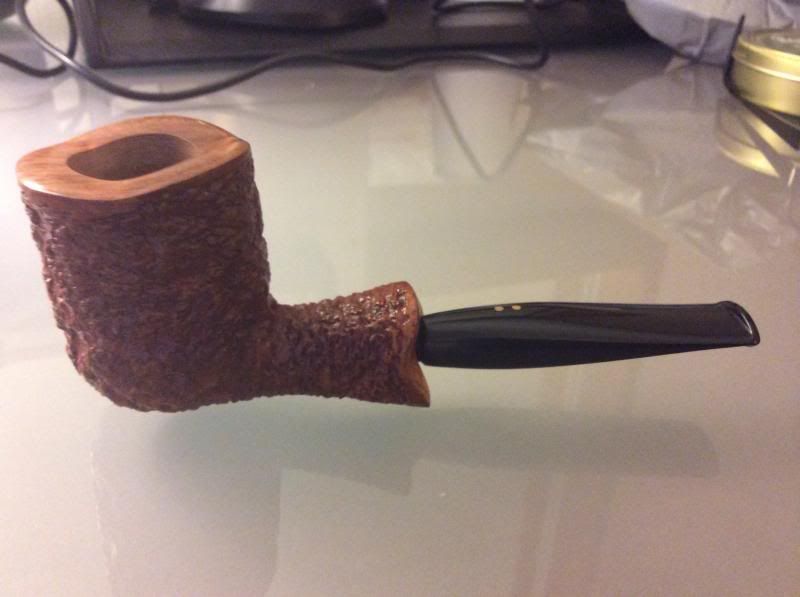 Can't wait to smoke it!