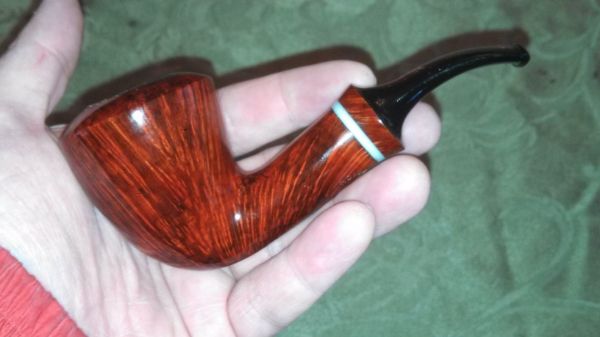 This is the pipe I promised myself as motivation to get through several long sleepless nights of web design work. It's even more beautiful than expected, although it's just a bit more red than I thought it would be. I'm very pleased with the quality of the workmanship. The stem fits perfectly and the pipe is surprisingly light for its size. The bowl is huge - at least for me. I loaded it with some Escudo. Normally, two coins will fill any of my pipes with some left over. This bad boy swallowed them up and asked for more.
One interesting side note is that the white accent band is the point where the stem joins the shank. The band and little bit of briar behind it are part of the stem.
How does it smoke? Well, I'm not quite sure yet. In my hurry to try it out I noobed up my packing job so I had to deal with way too many relights. Still, despite that, the smoke stayed cool without even a hint of the gurgle I'd usually get with that many relights.
All in all, I'm not just happy with the new pipe, I'm thrilled.