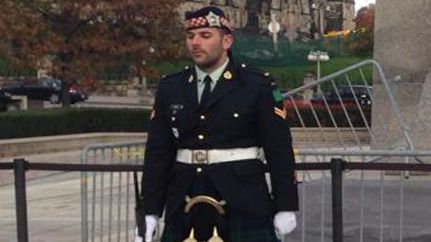 Cpl. Nathan Cirillo, 24, was shot while on honorary guard at the National War Memorial. Ottawa Police announced hours after the shooting that the soldier shot at the memorial had died.
A reservist from Hamilton serving with the Argyll and Sutherland Highlanders of Canada regiment. Cirillo died a short time after the attack despite frantic efforts to revive him at the base of the Tomb of the Unknown Soldier. The opening shots that began a devastating day on Parliament Hill killed Cirillo who dreamed of being a full-time soldier and a good father to his kindergarten-aged son.
His pictures posted on Facebook and Instagram show a man always smiling, who played guitar and loved his two large dogs. He posed for tourists shortly before he was attacked. Cirillo joined Canadian Cadet when he was 13 years old.
Lt.-Col. Lawrence Hatfield of the Argylls made a brief statement on Wednesday night to reporters and members of the public who gathered outside the James Street armoury.
"The regiment wishes to express its sincere condolences to the family of Cpl. Cirillo as well as to express our thanks that's been demonstrated by the support of Canadians across this country," he said. "Cpl. Cirillo was a very proud member of the Argylls and the Highlanders of Canada. Our thoughts and prayers are with his family, and we hope that Canadians share that with us." and that he expects the fallen soldier to have a funeral with "full service honours."