Just had a smoke on the deck. I hadn't yet tried out my Country Gentleman corn cob pipe from Missouri Meerschaum...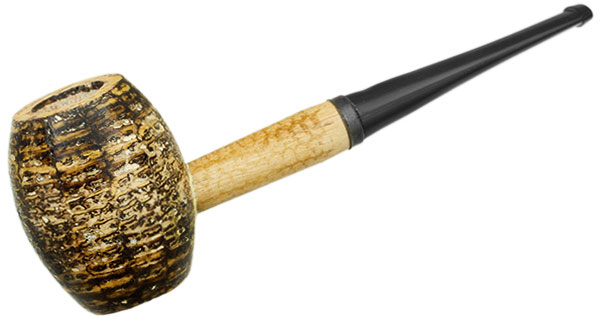 ...and I thought I would try out my "Black Vanilla" tobacco in it (with a glass of Federalist Cabernet Sauvignon)...decent pairing. First time with that tobacco, and I'm sorry, but I bought it without knowing anything about it, so I don't know the brand. Hardly any vanilla taste to it at all, actually. Just smoked like, well, tobacco. I'll try it again, but the Lane BCA is far superior to my mind.
I'm intrigued by corn cob pipes. They seem to be universally liked among pipe smokers. Do they handle heat better than, say, oak pipes? I enjoyed the smoke, but the draw was very different from my Vauen...I could faintly hear a "shhhhh" as I puffed. Maybe that is the paper filter in the corn cob, as opposed to the 9mm filter in the Vauen Ascot 172.
The pipe smoked well, though. The bowl seemed narrow and high compared to my Vauen (the only other pipe I've been using--the Country Gentleman corn cob is my second pipe). Didn't seem like it held as much tobacco as my Vauen, but it smoked for a reasonable amount of time.
Being inexpensive, this may be a good pipe for a sports tailgater, or a camp out.
My son, who gets the anti-tobacco treatment at school big time, was giving me trouble about the pipe tonight. He's a straight shooter, but he is amused by my new vice. The wife still wants me to stay in back...she's not ready for the neighbors to see me smoking on the front porch. I don't think they'd care half as much as she does.