I have developed a bit of a liking for Comoys pipes. Unfortunately they don´t come cheap. But I found out that their seconds speak to me as well and so I have got this The Golden Arrow from Ebay. It was cleaned up by the seller but when it arrived here I could see that the bowl wasn´t reamed or cleaned and the inner edge had some scorch marks. The stem was polished but there was still some corrosion visible. And most of all it smelled heavily of aromatics!
Because I thought that the cake was just very thin my first idea was just to use the cottonball method on it and I stuffed the shank and bowl with it. I removed stained cotton for many times until I decided to go the whole mile and use some emery paper on the bowl.
There is another "patient" in the back of the picture and I have taken no pictures of the sanding. In the end I sanded away the better part of the cake and blackened areas in the bowl. I used even more cotton and alcohol but the little bugger kept smelling like fresh tobacco! I am not very surefooted with the retort but I knew I had to use it on this one. It was a mess in boiling alcohol all over the place and after four retorts I stopped. More use of Q-Tips and pipe cleaners followed.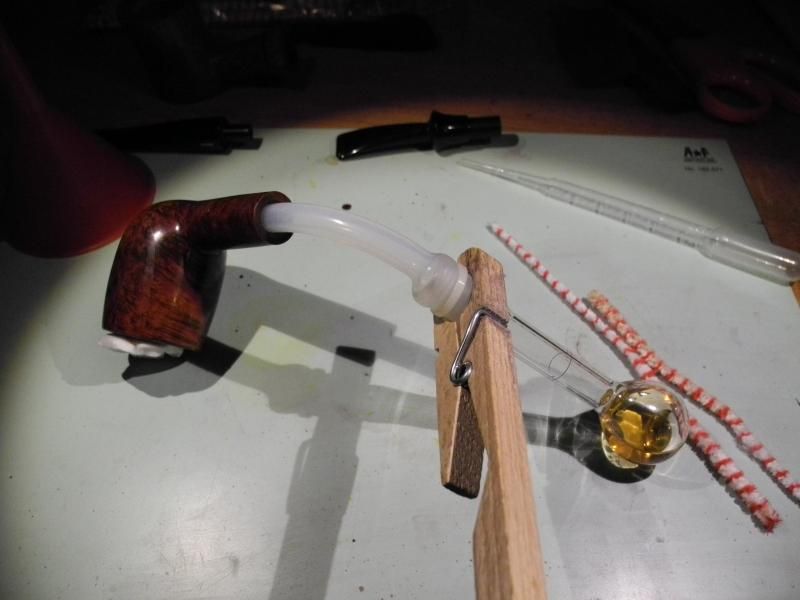 When even the blackened areas on the bottom of the bowl were looking like wood again I decided it was enough. The very faint smell of ghosts had to be exorcised with a strong english blend!
Unfortunately the staining on the top of the bowl was gone too. So I applied a brown and a red-brown stain successively and flame-set it.
I then went for the stem and it´s last traces of corrosion. I prefer a nonwoven abrasive over emery paper sometimes and used it on the stem. One go with a 800 grit and another with 1500 grit is usually enough for light corrosion.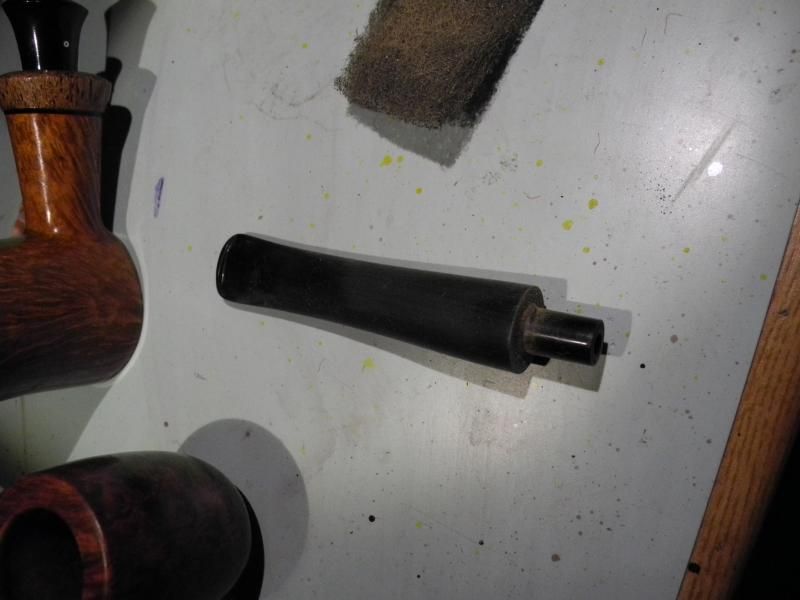 The stem and pipe were then polished and waxed on the buffer.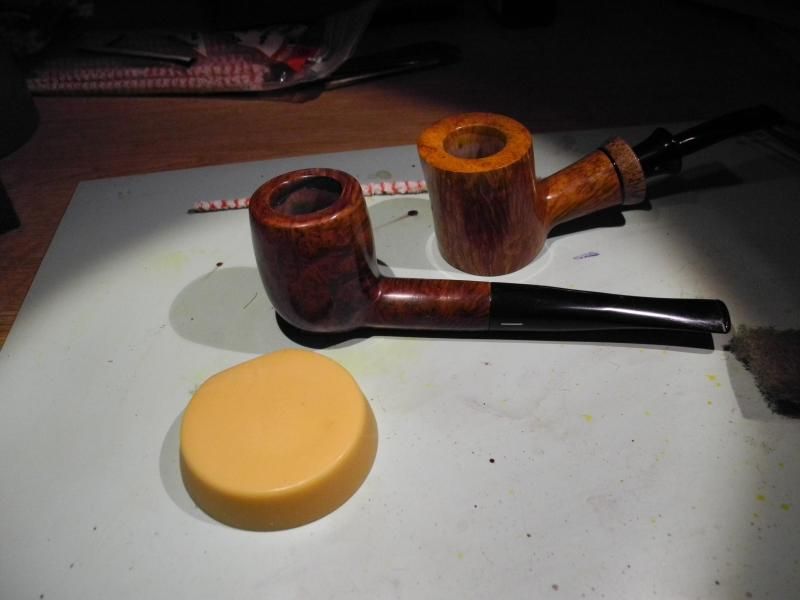 A previous owner found himself inclined to widen the drafthole with a large drill. You might see it here on the next picture. I sincerely hope that the pipe will still smoke well with it and the draw will be not too light! 8O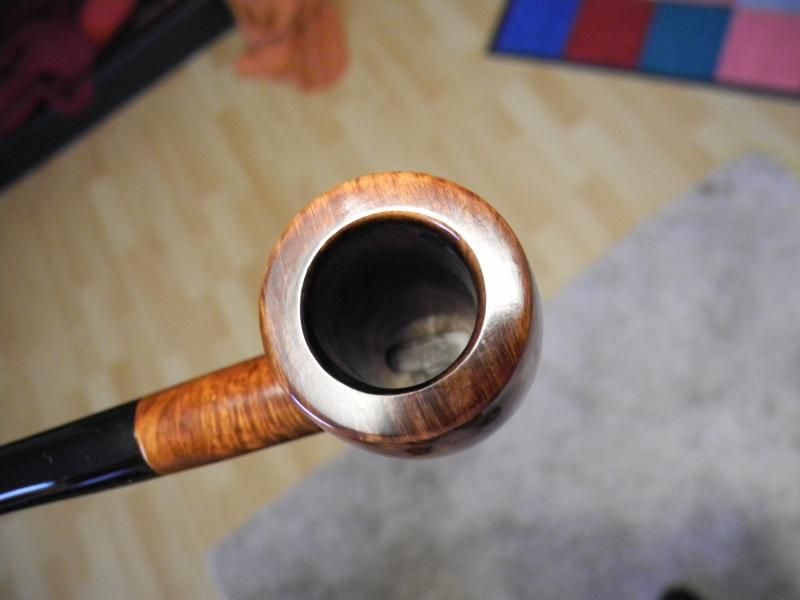 And here is is: Comoys The Golden Arrow back to it´s former glory! :D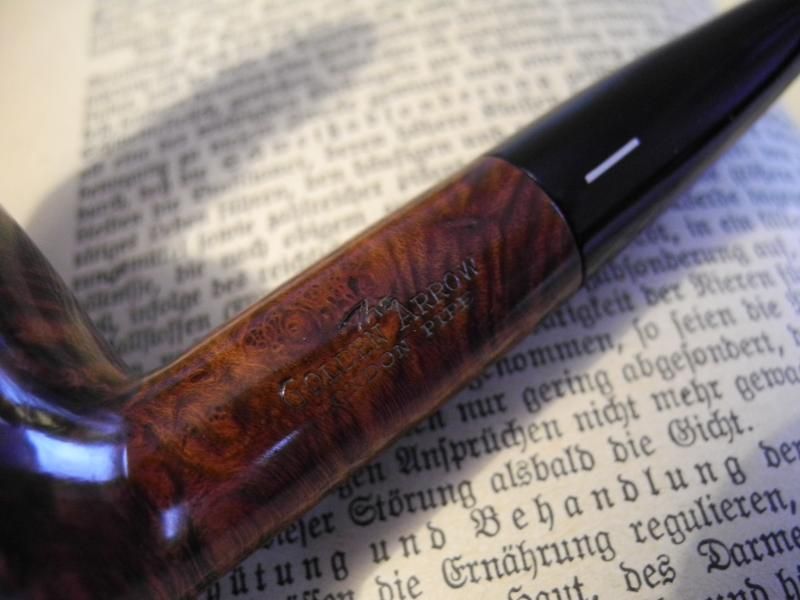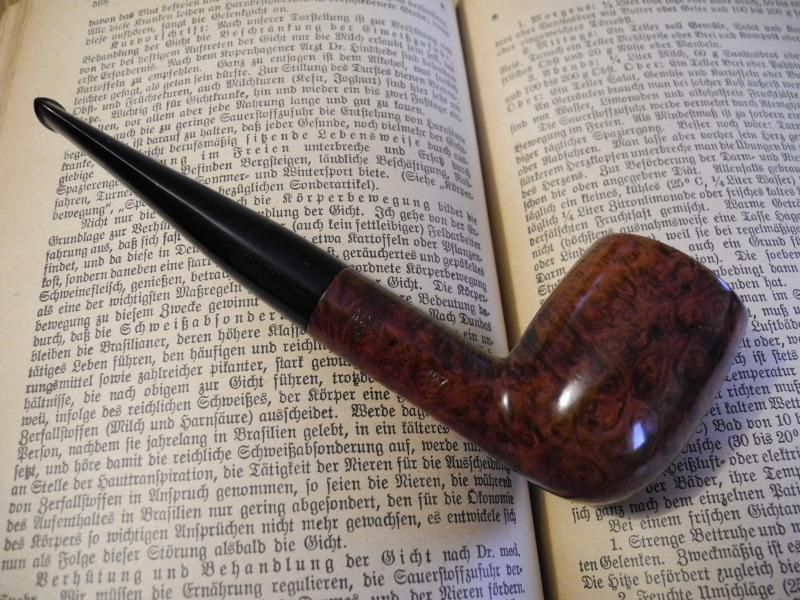 Thank you for watching! :D