Fred Brown


Our pipes are more than simple pieces of wood designed to hold a certain amount of tobacco, which is then set on fire. Pipes can be an intellectual pursuit, a reflective moment in the day, an old-timer sitting on the back of a wagon after a hot day in the fields, or a time on the deck, all to one's self.
We think of our pipes as friends who bring us memories from the past and the promise of good times in the future.
For many smokers, pipes are an existentialist experience: I am a pipe smoker, therefore I take responsibility for my actions and thoughts. I am willing to suffer societal issues that bring an increase in anxiety that I might one day lose the personal authority to smoke my pipe, which I would not accept.
For pipe smokers, these are the best of times, the worst of times, as Dickens wrote in 1859. "It was the season of Light, it was the season of Darkness, it was the spring of hope, it was the winter of despair, we had everything before us, we had nothing before us. . . ."
Pipe smoking is not necessarily a solitary endeavor. There are times pipe smokers want to be around their brothers of the briar. We are known for gathering around a table and chairs, with a little libation, and discussing the issues of the day. And, of late, we have had a lot of issues to take up our time.
Despite the darkening skies, I would like to offer this notion: We are in the best of times, and not inescapably the worst. Here's why: In my 40-plus years of smoking a pipe, I have never seen such innovation in pipe designs and tobacco blends. It is a time of glittering richness in tobacco blends, and both genius and extraordinary talent in pipe creations.
We will not go into the current unpleasantness with federal regulations. Those issues have little meaning in our existential world really. We are pipe smokers, therefore I smoke my pipe.
There is more than enough pipe tobacco on the market today that is bound to keep most of us happy for the next few years. And, simply stated, how much tobacco can one smoke in a day? Pipe smoking is not a device for the habitual smoker. It is, as Einstein said, ". . . . pipe smoking contributes to a somewhat calm and objective judgment in all human affairs."
If you but look around you in tobacco markets, you will find so much variety that it is difficult to choose.
I am a traditionalist when it comes to pipe concept. Basically, billiards, bents, bulldogs, Dublins, and an occasional Avant-garde piece will catch my eye and empty my wallet.
When it comes to tobacco, again, I am more traditionalist than adventurer: Virginia, perique, burley, (some latakia and Orientals), and precious few aromatics.
But the thrilling beauty of our current picture is that we are blessed with the best pipe carvers and tobacco blenders the world has ever seen. This is a magnificent time in our history and I refuse to believe that it will be crushed and wiped out simply through federal (or feral, if you prefer) regulations.
Onerous laws of past epochs were eventually overturned. Take the case of alcohol, branded as demon rum in a constitutional ban that halted the production, the transportation and sale of alcohol from 1920 to 1933.
The law met its end with the ratification of the Twenty-first Amendment Dec. 5, 1933, with the votes of 36 states approving the overturning of the Eighteenth Amendment, which set prohibition in motion in 1920.
What was the catalyst that overturned the anti-whisky law? As usual, it was a drop in federal revenue. Losing 14 percent of the tax-fueled revenue produced by the sale of alcohol in the teeth of America's Great Depression began to give lawmakers other thoughts than purifying the nation.
Prohibition does not work. People will find a way around the law every time. It is human nature, after all. Think of the response when you are told you can't do something that you really enjoy.
The great pundit H.L. Mencken, one of the nation's most popular newspaper columnists of the time, wrote that prohibition had not come close to doing what it set out to do.
In the five years Prohibition had been in effect, Mencken said it had "completely disposed of all the favorite arguments of the Prohibitionists. None of the great boons and usufructs (which loosely means using someone else's property for gain and profit) that were to follow the passage of the Eighteenth Amendment has come to pass. There is not less drunkenness in the Republic, but more. There is not less crime, but more. There is not less insanity, but more. The cost of government is not smaller, but vastly greater. Respect for law has not increased, but diminished."
There you go. History on the way to repeat.
American citizens are not good at bowing to authoritarianism. History is replete with examples, with one of the most prominent being the Revolutionary War. Told to pay allegiance to a distant king and to pay outrageous taxes, the colonies decided to take matters into its own hands and to change things.
Tobacco has played a key role in the nation's history. It was a cash crop, funding not only federal, state and local government entities, but also farm families, who counted on the leaf to help with land taxes, or new farm equipment, or to help with the purchase of shoes for a new school year.
So, the existential view is that we may well be anxious at the moment, but being responsible for our own actions and thoughts, we will prevail.
And why, you might ask, will that be?
As Willie Nelson once wrote in song about a doctor telling a patient he was killing himself with evil drink and to quit before he met his end. The patient, or maybe Willie himself, refused to even consider abstinence, singing this quintessential line: "There are more old drunks than old docs."
We have enough pipe tobacco and pipes to outlast this prohibition.
And, after all, there are more old pipe smokers than regulators. We will be here smoking our pipes long after the tobacco bans have been overturned.
You don't think we are going to give up our pipes and tobacco, do you?
That would not be existential!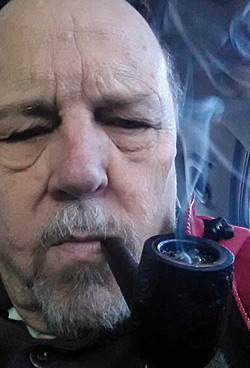 Fred Brown is a journalist who lives in Knoxville, TN. He will write this column for PipesMagazine.com monthly. He can be contacted at
tennwriter@bellsouth.net.
12 Responses