Nesbitt and Stewart, Two Friends and Their Pipes
Nesbitt and Stewart, Two Friends and Their Pipes
Fred Brown

Despite their diverse backgrounds, Bobby Nesbitt, a miner who lives and works in Sandersville, Ga., "The Kaolin Capital of the World," and Charles Stewart, a retired University of Georgia dean, have a couple of things in common.
They are buddies, but more than that, both are pipe smokers and they both buy and sell pipes by the truck load.
Even though Nesbitt works as a machine operator in the processing plant for a large kaolin operation in Sandersville, he also is the "driving force," behind, Two Friends Pipes, a popular Internet web site that sells estates, new high-end and moderately-priced handmade new pipes.
As for finding estate pipes on the web site, you can find Bo Nordhs along with Chonowitschs, Buteras, Knudsens, Ferndowns, Castellos and Ardors, to drop a few names.
In addition to pipe carving superstars, Two Friends Pipes carry a line of carvers who generally fly below the radar, but who nonetheless have growing fan bases. Don Marshall and Jerry Crawford fall into that group, says Nesbitt, along with several other emerging artisans.
Many of the artisans prefer to work just on the edge of the limelight, says Nesbitt. This affords them the time it takes to create something of lasting significance without having the crush of deadlines to produce a line of pipes.
Stewart owns an antique shop in Watkinsville, Ga., near Athens, Ga., where he taught at the University of Georgia, where he started the School of Social Work. He sells not only antiques, but also estate and new pipes in the antique shop.
As a matter of fact, Stewart sells hundreds of pipes out of his antique shop. He also purchases "thousands" of pipes each year. He once bought out entire stores whenever a bricks and mortar shop went under. Some Tinderbox shops also found their way into that group of buyouts, he says.
Now for a little history of the partners, Nesbitt and Stewart.
Stewart, 83, founded the University Of Georgia School Of Social Work in 1964. As dean of the school, he hired the faculty and helped organize the school, and then served as Dean from 1964 until he retired in 1995.
About 23 years ago, he and his wife, Joann, a retired UGA professor as well, and Stewart lived in Madison, Ga., where they also ran their antiques business. But the couple decided to move to Watkinsville after their building rents began to be too much in Madison.
The antiques shop in Watkinsville is "divided" into "his and hers" antiques. Stewart devotes much of his time on his estate pipes and Civil War-era artifacts that the couple finds at auctions and estate sales.
Joann collects antique jewelry—necklaces and bracelets—along with silverware and china.
Charles says Bobby is the "driving force" behind the website, though over the years, Stewart has purchased thousands of pipes. At one time, he says, he had more than 13,000 pipes under one roof.
Even today, Stewart continues to collect pipes, some of the big names, which Nesbitt sells on the web, and others "I keep to sell in my shop."
"I've collected pipes all my life," Stewart says. "I bought out several stores in the 1970s and still have some pipes that are 50-60 years old that are unsmoked. I buy and collect every week."
As an example, when a prominent attorney in Atlanta died recently, "his widow heard I collected pipes and sent me the list" of her husband's collection. This included plenty of Dunhills and Caminettos, as well as old Ben Wades.
Stewart says he buys pipes by the lot. "Bobby will take the high ends and sell them on the internet. I'll keep some of the mid-grades and sell them (out of his shop)," he says.
By the way, Stewart says many college students from UGA come in now to buy pipes. He instructs them on pipes, how to pack them, smoke them, clean them and gives them a sample of tobacco.
Now, as for Bobby Nesbitt.
"I am a miner," Bobby says. He is also a pretty decent marksman, having competed nationally with his daughter, Dakota. He loves to deer hunt when he can get away.
Nesbitt, 54, has been a kaolin miner for about 30 years now, he says. If you are familiar with the state of Georgia, you know that it is best known for peaches and red clay.
It also has the world's largest deposit of kaolin, a geologic term to refer to white clayey rock that is predominantly composed of Kaolin Group (khandite) minerals. The most common constituent is the mineral kaolinite. Kaolinite is a layered silocate made of alternating sheets of octahedrally coordinated aluminum and tetrahedrally coordinated silicon. Kaolin is one of Georgia's largest natural resources. According to the U.S. Geological Survey, more than 8 million metric tons of kaolin are mined from Georgia each year, with an estimated value of more than $1 billion. Georgia is by far the leading clay-producing state in America and is recognized as a world leader in the mining, production, processing, and application of kaolin products," says the Georgia Encyclopedia.
The most common use of kaolin is in paper-coating, as fillers in plastics and rubber compounds, in pigment additives in paints, and in ceramics and the pharmaceutical industry.
Bobby began smoking a pipe in the 1980s. He was off and on for a while, and then stored many of his pipes away. But a few years ago, he walked into an antiques shop in Madison where Charles and Joann were running their business at the time.
Nesbitt didn't purchase any pipes then, but thought he would always go back to "buy a handful."
Then, cleaning out his old shop one day, he ran across some of his old pipes and remembered Charles Stewart.
"I got back in touch with Charles. He had over 15,000 pipes. He had bought out several pipe and tobacco stores. So, I began getting pipes from Charles and selling them on eBay."
He says it took a couple of years to "go through all that Charlie had." Then they began to get low on inventory.
"You can't always count on estate pipes. That's when we began buying new pipes. . . . about 2009."
In 2009, he rode to Richmond, Va., for the CORPS (Conclave Of Richmond Pipe Smokers) pipe show with Charles and the pipe carver Rad Davis.
At the time, Nesbitt was handling estate pipes, cleaning them up in his shop and selling them on eBay or at pipe shows.
He began Two Friends Pipes website in 2010. "I just got tired of working with eBay. I could sell them cheaper on our website," Nesbitt says.
The two men decided to start purchasing new pipes as well as estates to sell on the website.
Then in the fall of 2010, Nesbitt and his wife, Lorrie, had a tragic motorcycle accident. Nesbitt ruptured his spleen and Lorrie received a concussion and injured her knee. Nesbitt was out of work for six months while his injuries healed.
He had to let the website go during his recovery, but he tried to maintain it as well as he could. Since then, Nesbitt says the site has gone through two big transformations.
In addition, Nesbitt and Stewart have added new carvers to the site's stable and new pipes instead of just estate pipes. The old site, Nesbitt says, was difficult to keep up.
"It was just so complicated, it was hard for me. There were so many linked pages. The version now is much simpler and easier."
In the beginning, he says, many of the site's pipes "were never listed on the website. Now everything sold at least runs through the gallery on the website."
There is another very important aspect to Two Friends Pipes. It is the new and fresh talent Nesbitt and Stewart bring to the attention of pipe collectors.
"I saw a lot of talent that was getting passed over, a lot of great pipes passed over," Nesbitt says. "I wanted to help get them established and get the pipes out where the public could see them instead of just on their (pipe carver's) own website."
That means that in addition to working with the well-established names, Nesbitt brought in carvers who produce up to 15 to 25 pipes a year.
"There is really good talent out there flying under the radar," he says.
He gives as an example, Don Marshall, a retired construction engineer, whose pipes he carries regularly on the site. Marshall had created a long shank black bamboo pipe in which the very slight bend of the bowl followed the grain of the pipe. It was a spectacular beauty in design and construction.
That 7 ½-inch pipe did not linger long on the website. Neither do other creations from Lars Jonsson, Andrey Cherepanov, Rad Davis, Sergey Cherepanov, and Maigurs Knets.
There are many, many more names to go with those carvers on the Two Friends Pipes site.
This brings up another side of Two Friends Pipes. Nesbitt will put the pipes on layaway, or place them on hold for a buyer. You can pay them off in a reasonable amount of time.
Nesbitt says many of the pipe makers he takes have day jobs and make pipes as a fine artist would with a painting.
Take David McCarter, he says. "He is a computer technician and makes only a handful of pipes a year."
"I can call Rad (Davis) and tell him I would like this or that (usually with a customer in mind). I cherry pick. I don't want to be the Wal-Mart of pipes. If you want something different, then that is why I want you to come to my site.
"If you want that big blast lovat with great ring grain, then I'll get it."
Nesbitt says he is "really blessed," to be doing what he is doing today.
"I didn't go at this to make a business. I started the web site because I love what I am doing—working with these (pipe makers, new and old) guys.
"I thoroughly enjoy working with the customer. That is why I got away from eBay. I like that personal contact with the customer."
And, he says, this is just a great time to be in the pipes and tobacco business, despite the political correctness of our era.
In fact, says Nesbitt, "We are in a pipes and tobacco renaissance."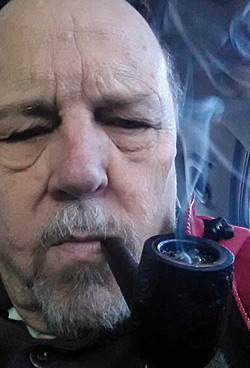 Fred Brown is a journalist who lives in Knoxville, TN. He will write this column for PipesMagazine.com monthly. He can be contacted at
tennwriter@bellsouth.net.
7 Responses