Fred Brown

Two of East Tennessee's most iconic retail tobacconists, Smoky's Cigar in Knoxville, TN., and The Gatlin-Burlier Tobacconist in Gatlinburg, TN., gateway to the Great Smoky Mountains National Park, have been in business for more than 30 years each. Combined, the two shops have more than a half century of history and experience from which to draw.
Dave Watson, owner of Smoky's, and Ira Lapides, owner-founder of The Gatlin-Burlier in the resort town of Gatlinburg, bring an astounding amount of business acumen to the table when it comes to pipes, tobacco and what the future holds for those who enjoy the fruits of their labor.
Watson started his career with the media entertainment giant, Anderson Media Corp., which was born in a wood shed in Florence, Ala., and grew into a multi-billion-dollar magazines and newspaper distributor. Today, based in Knoxville, the company is the leading entertainment media distributor to North American Wal-Mart and Sam's Club locations. The company is also a product distributor to Army and Air Force exchange stores at bases around the world.
Watson, 60, worked his way up, literally, from sweeping floors, delivering magazines and books to retail stores, and, finally, to becoming a regional vice president. He spent 33 years with Anderson before retiring in 2006 to set off on his own and taking over Smoky's, one of Knoxville's oldest tobacconists, which had fallen on hard times.
Smoky's was opened by its former owners around 1983 and operated until about 2007, when Watson purchased the store and inventory Jan. 1, 2007.
"I took two weeks off in retirement and then began working to re-open Smoky's," Watson says with a chuckle.

Dave Watson, Owner of Smoky's Cigar
He didn't look back. Beginning with no employees and $70 in sales the first day he opened, he has brought the operation a long way, moving from a 1,200 square foot shotgun-size retail outlet in a strip mall to a 3,400 square foot modern retail store that includes a 280-feet-plus walk-in cigar humidor and a 900 square foot "Squire's Club," for members only. A $250 membership gets you a locker (there has been a locker waiting list since the club opened). He is now thinking of expanding the humidor.
Lapides, a PhD economist from the University of Tennessee, brings an entirely different perspective to the table.
In 1977, after completing his doctorate and doing some teaching, consulting, and other work, Lapides began to itch for his own business. The opportunity popped up while in Gatlinburg with his wife on a relaxing weekend. He ran out of pipe tobacco and tried to find a good blend.
"I couldn't find pipe tobacco in the entire town," Lapides said. "I went back to the chalet where we were staying and told my wife that we were going into the tobacco business. I decided right then and there."
That was 1977. Lapides said he emptied "out my savings account, got a SBA (Small Business Administration) Loan and went into business."
His wife joked that the only thing Lapides knew about pipes and tobacco at the time was that he smoked a pipe.
"But, I had the capacity to learn," Lapides said.
Indeed.
Lapides opened the Gatlin-Burlier in the top floor of Mountain Mall, one of Gatlinburg's main shopping outlets on the main street. It has been there since.

Smoky's Pipe Board
He began with a very small inventory. Cigars had not yet hit the boom years. He built a small cigar humidor, which was too large then, but now much too small to keep up with business, he says.
The Gatlin-Burlier has always been "a pipe store featuring more pipes than cigars." It also features Lapides' excellent blends. Cigars amount to maybe 20 percent of the business today and pipes and tobacco the rest.
The Gatlin-Burlier has 20 blends that Lapides created.
"What I've done is stuck with a few dozen or so blends that pretty much covers the smoking universe," he says.
He must be doing something right in the tobacco kitchen because the Gatlin-Burlier sells about 1,000 pounds of pipe tobacco a month.
Watson, on the other hand, has been a cigar smoker since he was a teenager. Cigar sales at Smoky's represent about 60 percent of his business, but Smoky's has 70 bulk pipe tobaccos. Watson said he sells about 100 pounds of his premier "Smoky's" house blend per month.
In addition, Watson has put together roughly eight more blends from his own and former Smoky's recipe book.
But both Watson and Lapides see a dire future for tobacco in general.
Watson says his biggest fear at the moment rests with the Food and Drug Administration, which has federal control over the nation's tobacco products.
He thinks the FDA will eventually step up its harsh regulations on B&M shops by restricting, say, a cigar buyer from entering the humidor to make his or her own choices.
"I can see the FDA restricting you from going into our humidor. There are plans to stop the decorative cigar box and they will limit cigars that actually get to market," Watson says.
"Government and taxation will greatly impede (tobacco) retailers."
Because pipe smoking is a small "niche" market, Watson describes it currently as a "flat line." Older smokers, he says, smoke pipes. As for pipes, he says, most are not looking for the high-end pipes. Smoky's does carry some medium-priced pipes, but Watson says he caters to "that guy who wants a Chevy or a Ford" rather than a Lamborghini.
Lapides says the recent tax increases on cigars, which has spread across the board to the individual cigar rather than on weight, "played havoc with the small cigar businesses in Tennessee," he says.
"Tennessee's gross domestic product is one of the lowest in the nation and its OPT (an annual privilege tax on occupations) on tobacco is one of the lowest state taxes out there."
Because of this and other taxes, Lapides said "a lot of stuff fell out of the market. Several imports decided not to come into the country."
At one point in the shop's history, Lapides could ship chewing tobacco to customers. That is illegal now, he says.
But one of the crushing blows to Lapides is that he now sees the new FDA regulations as preventing him from the ability to sell his business in order for him to retire.

Squire's Club
"The major thing done to my business is that it (FDA regs) have decreased its worth for retirement purposes."
A 35-year-old firm, he says, "should provide a good retirement income in the open market."
"But the tobacco business has lost value."
Although he says he hasn't tried to sell the business yet, he believes the real opportunity to sell out may have passed.
"The FDA continues to come up with (new) regulations, which has ruined my retirement plans."
"No", he says, back in 1978 when he began The Gatlin-Burlier, he never thought this day would come.
Lapides said he would have had to be "clairvoyant to know that the business environment (for tobacconists) would get as rough as it has."
For that reason, he does not see a bright future for mom and pop tobacco operations.
Watson puts the situation in a more straight-forward way:
"You got your product on one hand, the federal regulations on the other, and the amount of markup you need to stay in business." He shrugs.
It doesn't take a rocket scientist to see that, with the big elephant in the room, there could be a whole lot of shaking going on in the future.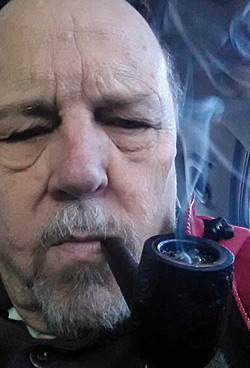 Fred Brown is a journalist who lives in Knoxville, TN. He will write this column for PipesMagazine.com monthly. He can be contacted at
tennwriter@bellsouth.net.
7 Responses