Steve Morrisette

My friend and colleague Brian Levine, host of The Pipes Magazine Radio Show, recently suggested I write a column about choosing a hat type or style that works for a man's face. Brian pointed out that he definitely had a face for radio and as I agree it seems his best choice would be a full-face balaclava that matches his sport coat or suit.
Putting collegial joshing aside, he did have a sincere and timely suggestion. Fall weather will be upon us soon and as it cools down this may well be the first time out for men thinking of experimenting with a new style of headgear.
A New Look
If you are a ball cap guy, or if beanies are your go to lid, perhaps this fall will be a good time to try a hat with a brim that goes all the way around the hat. A fedora, bowler, pork pie, Homburg or trilby. A hat hat – headgear of a gentleman. A man's hat.
I wholeheartedly advocate and encourage the wearing of a nice brim.
It isn't necessary to spend a lot on a hat to look well. In fact, if you are new to wearing a fully brimmed hat, I would caution you to avoid overspending.
Were you a novice fly fisherman, it wouldn't be wise to commission a custom fly rod before you have enough experiences in streams to know what will suit you. Likewise, also with hats.
Making the Choice
Just as with choosing the right load for bird hunting, or the right shaped board for a particular wave, there are several factors to consider when choosing your hat. It's not string theory level brain work, but it is best to give some attention to the elements involved to get you under a topper that enhances your appearance.
Stacks of Hats
Most men that are "hat guys" have quite a few hats. These collections generally fall into two roughly loose categories.
The first is a collection of several unsuccessful acquisitions and one or two "keepers". This is unfortunately fairly common.
The second is often a smaller collection of hats that all see good use depending on the outfit and the weather. This is what we are aiming for.
Some Guidelines
I doubt it is possible to avoid the occasional disappointment with a hat purchase, but I shall try to fore arm you with some well earned knowledge acquired over many years of hat wearing.
The first major consideration is the shape of your face. Since most men have never truly tried to classify the shape of their face and many are unaware that there are more than two – round and square – we have here a face shape chart with several shapes.
Few of us fall precisely into one category, but each of us will have a mug that is more like one than all the others. You will want to do your own interpretation.
So first, decide on your face shape. It's OK to ask your wife, girlfriend, sister or mother. Perhaps not your hunting pals – unless they are sartorially enlightened.
With that done we have these suggestions for each type. Please keep in mind that there is only one rule with hats, or anything else you decide to wear; you must look well, or good, or handsome. However you term it, the point is enhancement of how you look and feel.
Some Suggestions for Face Types (from: theartofmanliness.com)
Short, Full Face
A round face tends to look short, so you want a hat that will give you a little height.
Crown: Medium height and size
Taper: Slight
Hat Band: Narrow band of a contrasting color will add height
Brim: Moderate width.
Tilt: Back from face; tilting it over your face will make the face appear shorter.
Recommended hat: Fedora, Gambler, Panama
Long, Thin Face
Look for a hat that shortens the appearance of your face.
Crown: Shorter height. Avoid crowns that are square, full, or too high.
Taper: Moderate
Hat Band: Wide (will make you face shorter) with a contrasting color to break up your vertical lines
Brim: Moderately wide, snapped from ear to ear
Tilt: To the side with a slight back tilt
Recommended hat: Fedora, Homburg, Derby, Pork Pie
Triangular, Diamond shaped Face
This face is wider on the top half and tapers to a more narrow chin line, or may have a diamond like shape. You want a hat that will balance the top and bottom out.
Crown: Medium to short height, pinched toward the front. Avoid crowns that are full or too high.
Taper: Moderate taper
Hat Band: Medium to narrow, in a color similar to the color of the hat.
Brim: Medium width, rolled at back and sides, flat in front
Tilt: To the side, and not too far back on the head or you'll show too much of your wide forehead
Recommended hat: Fedora, Homburg, Pork Pie
Square Face
Pick a hat that will add some curvature to your face and make it appear less boxy.
Crown: Medium height, full and round
Taper: Minimal to non-existent
Brim: Wide width, fully snapped or turned up at the rear
Tilt: A side tilt will break up your square face lines. Don't push it too far back on your head.
Recommended Hat: Homburg, Bowler, Fedora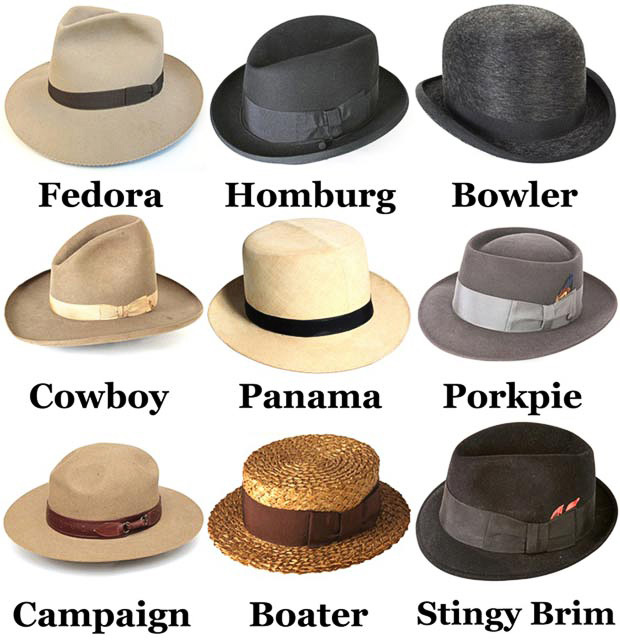 How Do I Look?
Now that you have your face shape and some hat suggestions, go and try on some lids.
Test these suggestions out for yourself. Compare a hat of the suggested type with one that is not recommended and note the difference in the effect.
This can help sharpen your eye and build confidence in your choice making process.
Try various crown heights, brim widths and note the effect a narrow or wide band produces.
Smart Shopping
This is my favorite method to aid my decision making for all garments: make a cell phone video or take some "selfies". Your smart phone is an invaluable tool in shopping for new wardrobe additions. Mirrors are OK, but relative stone axes compared to the digital assistant most of us carry religiously. Sometimes I will video myself in two or three choices and review them later in private- away from the shop. This is how I decide if I really wish to spend that much on a hat, shirt, sport coat, etc.
This may seem like a lot of effort, but if you really want to look your best – and you aren't gifted with Tom Ford's eye – then a little time well spent can go miles toward bringing home "keepers" and not amassing a collection of disappointments.
Nuances
A quick word about the subtleties. Here we have the same guy, the same shirt and two different hats and two different hair styles. Note the differences in the hat/hair combinations.
I throw this in just to make a point that there are many factors that go into wearing garments that suit you.
Who's the guy in the hat?
Hats these days are still uncommon, at least proper brimmed hats are. Therefore, they tend to attract attention. How much and what kind of attention will be determined by the choices you make.
By incorporating considerations of style, color, shape and your personality, you can do your best to attract the quality of attention you want. Your wardrobe choices make a statement. This is particularly true of a hat.
Michael Corleone in " The Godfather" wore a sober, conservative, Homburg to project a solemn, serious, and no nonsense image – that of a solid citizen.
Samuel L. Jackson's Kangol caps present a sporty and casual air. Turn it around front to back and he becomes a bad ass.
Humphrey Bogart in a fedora comes off confident, well dressed and a serious guy, not to be toyed with.
Harrison Ford in the Indiana Jones fedora gives a sense of carefree disregard for convention and projects the sense of an adventurous guy – a risk taker.
John Steed in "the Avengers" puts a rakish tilt on his bowler and becomes a mischievous, yet elegant lady killer.
Put the same bowler on, all squared up, and it can give an air of the gravitas of an important diplomat.
Robert De Niro as Al Capone in a broad brimmed, flashy and raked fedora shows stylish sophistication as well as a confident menace.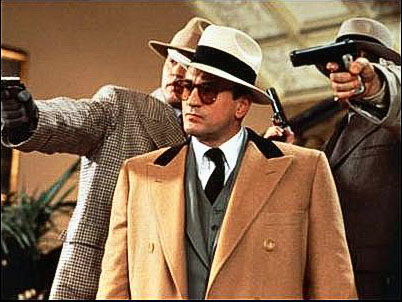 And… Frank Sinatra, in a Milan straw pork pie: Cool, stylish and the personification of hip sexiness.
You want to be comfortable in your clothes, especially in a hat. Wear the hat, don't allow that hat to wear you. Be Bogart, Jackson, or Sinatra, but above all, be yourself.
Pipes with Caps
Most pipe smokers at one time or another have either tried a wind cap or owned a pipe with an integral cap. Now that Fall will be here soon with the dry grass and fallen leaves, a wind cap may be just the ticket to prevent the odd forest fire or hole in your sweater. They can be useful and handy, those caps. Here are some examples.
The removable type are great for a flat topped pipe with a normal-ish bowl. You'll not find one for your blowfish or oval bored opera pipe.
That's Hot
Smoking with a covered bowl generally requires some extra attention to moderating your technique. Sipping a bit more and drawing lighter helps keep the tobacco from burning too hot. And speaking of hot, that cap or top will likely get right toasty so be aware when removing it right after smoking, shoving the pipe in your pocket or during a relight. Don't ask how I know this.
A capped Tyrolean type pipe can be a fun addition to a collection and a great conversation starter. Nice examples can be had as estates for reasonable prices.
Here is my recent $5 find by way of Premal Cheda at Smokers Haven:
A little Wright's Silver polish and it became a lovely little whimsical beauty. Smokes pretty well too.
the Gentleman Smoker's Tip
Hats in the rain
A good beaver felt hat is quite happy in the rain. Beavers live in the water – right? I've worn beaver felt fedoras in very heavy downpours – once while fixing a tire- and my trusty lid suffered no ill effects at all. And this was a nice hat too, not a beater.
It kept my head dry and warm in a nasty storm. When I got home I just placed the hat upside down on a clean towel on a table and let it air dry completely. (never apply heat)
It didn't even need to be re-blocked. The shape held up perfectly. Band also. A well made hat with a good percentage of beaver in the felt will laugh at rain and snow. I would avoid much moisture with a wool hat. Much rain at all and you often have a soggy, shapeless mess.
Cheers to all,
Steve Morrisette
the Gentleman Smoker

Steve Morrisette is an artisan pipe maker, relentlessly snappy dresser, and self-confessed Virginia gentleman. He makes artisan pipes for discerning collectors, and scours the internet and shops of all types seeking information and fine garments, hats, watches, shoes, and jewelry – anything related to the gentleman's lifestyle. Steve also spent several decades as a working drummer and photographer/photojournalist. You can find his pipes at www.smpipes.com, and catch his style photos and latest pipes on Facebook and Instagram.
More Pipes and Tobaccos Articles
24 Responses