Drinking & Smoking The Bacon Old Fashioned
Drinking & Smoking The Bacon Old Fashioned

Kevin Godbee

The Old Fashioned. It's one of the classic cocktails that remains popular today. Pipe Smoking. One of the oldest forms of tobacco enjoyment. Bacon: It's bacon! What else do I have to say! It's likely no news to most of you reading this that the past five-to-seven years have seen a wonderful resurgence in connoisseur pipes and tobacco production and enjoyment. Coinciding with this, there has also been a revival in classic cocktails. This is certainly true in my neighborhood here in the heart of Downtown St. Petersburg, FL. (For those geographically challenged, we are on a peninsula that is on a peninsula, with Tampa Bay on the east, and The Gulf of Mexico on the west.)
It's not that I need an excuse to visit a couple of my favorite cocktail lounges along with pipe and tobacco in hand, but it's nice to have one when it's only 3 o'clock in the afternoon. I'll give my tobacco review followed by two unique, exclusive drink recipes created just for this article.
The Bacon Old Fashioned pipe tobacco is one of the first of three releases by BriarWorks, and it is made by Cornell & Diehl. Before I hit the city to do tobacco and drink pairings, I thought it best to give this new creation a fair shot at home with just water as a drink accompaniment. My first smoke was in a brand new, unsmoked Luciano with a natural, uncoated bowl. Since my tobacco preferences are Latakias and Balkans, and I'm anticipating this one being an aromatic, I need to make sure I am being as fair as possible.
Appearance: What a great idea to package this in a mason jar! (2 oz.) It goes along with how we cellar our tobaccos, plus it associates with the cocktail aspect as well. Upon opening the jar, you see a large, prominent, dark, chewy looking leaf that kind of resembles a burnt piece of bacon. Nice touch! (It's actually a big strip of Dark-Fired Kentucky leaf.) You also notice the medium ribbon-cut browns, tans, yellows and black pieces of tobaccos. The actual varietals are Red and Bright Virginias, Burley, Black Cavendish, and Dark-Fired Kentucky. It's topped with orange liqueur, bourbon, and bitters.
Touch: The tobacco blend is soft, and moderately moist. I opened the jar a week ago to smell it, and then closed it up until now. The tobacco seems to have the perfect moisture level to smoke right away. I just had it sitting out for about 15-minutes before packing and smoking.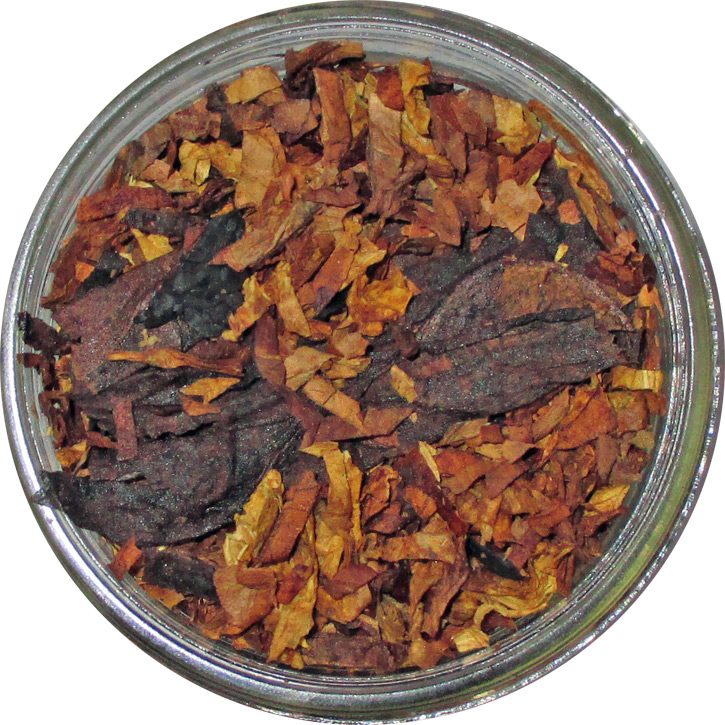 Jar Aroma: Dang! It smells like it might knock you on your tail at first! That's because the Dark-Fired Kentucky smacks you in the face, stealing the show … but only at first. The smokiness is always there, but now you can detect the sweet Virginia tobaccos – some vanilla and cream, and the orange liqueur. This might be an aromatic with some kick to it. Maybe that's why the jar says: "Bourbon, citrus and smoky Dark Fired make this perfect for sippin'. Drink responsibily."
Smoking: Upon packing, the tobacco is fresh and springy. On the charring light, the tobacco lit well, and didn't spring up out the bowl much. One light tamp and another puff, and it was sweet and smoky. I let the bowl sit for a few minutes, and then on to the true light.
I have to admit that I was dreading this review because of all of my preconceived notions from past experiences with aromatics. In a nutshell, a stereotypical aromatic has the tin aroma being wonderful, and then you smoke it and it tastes like air. Not this time!
Technically, a pipe tobacco is classified as an aromatic when it has toppings added to it to make it smell good. This one has toppings added to it for sure. However, it also tastes amazing. The orange liqueur, while technically a topping still comes through in the flavor. This actually does taste just like a specific Old Fashioned drink that I've had many times – a Smoked Old Fashioned!
Smoked Old Fashioned: During the process of making the drink, the mixologist literally takes a blowtorch to a piece of oak wood from a used whiskey barrel and chars it. Then he turns the glass upside down over top of it to let the smoke fill up the glass. It sits there becoming permeated with smoke while he continues the process of making the drink – muddling a sugar cube with bitters and orange peel, slowly stirring the bourbon (or rye), and then transferring the final drink mixture to the smoke-filled glass. This tobacco tastes just like that. The worst thing I can say is that it doesn't really taste like Bacon. I would have named it Smoked Old Fashioned instead.
The tobacco burns quite well, needing only a few relights, but definitely give it some air time before smoking. I think if I gave it a little more drying time, that it wouldn't have needed any relights.
As the bowl progresses to the mid-point, it becomes less sweet. The orange flavor diminishes, and the natural nutty Burley and vegetal Bright Virginias speak up a bit, which is nice. The smokiness stays, but mellows some.
I was worried about the nicotine hit from the Burleys and Dark-Fired, but so far so good, but I did follow instructions and sip slowly. Whoomp there it is! About three quarters of the way through I have a little bit of a nicotine buzz.
This is not your stereotypical grandfather's aromatic. It's packed with flavor, and nobody is going to tell you that the smell reminds them of their grandfather smoking a pipe. The room note is not cherry pie. It's not real heavy, definitely not in-your-face like Latakia, but sensitive people will not be begging you to smoke it around them. Getting back to the nicotine, if you're a lightweight, like me, you will be ok if you take it slow.
There is occasional talk about "crossover blends". Maybe this is one, but I think it is an aromatic on a technicality only.
I would smoke this on a regular basis. Thanks for the pleasant surprise BriarWorks and Cornell & Diehl!
Order from SmokingPipes.com Here

————————————————————————————————–
The Drinks
After spending the first half of my day smoking the Bacon Old Fashioned tobacco, I decided to spend the second half eating bacon and imbibing in Bacon Old Fashioned drinks. Two of my favorite places in Downtown St. Petersburg concocted their own special off-the-menu Bacon Old Fashioned recipes just for this article.
The Mill is so close that I can literally see it out of my window while sitting at my desk typing this. It's just across the street from my condo. Later, a ten minute, six-block walk from my place is my "second home", Tryst Gastro Lounge. I'm here so often that I actually have my own personal martini glass reserved for me behind the bar. Seriously.
Our first stop was The Mill. Tagging along to take photos was Barry Lively of B. Lively Images. (He has shot several of our Pipe Babe spreads, and is actually at The Super Bowl right now as one of the credentialed photographers of the pre-game festivities.)
The Mill has already won several awards after only being open for half a year. They have unique twists on hearty, rustic American fare, and several exclusive craft cocktails. Ryan Pinés, Director of Beverage, rose to the challenge of crafting our exclusive PipesMagazine.com Bacon Old Fashioned.

Ryan Pinés, Director of Beverage at The Mill
The Mill Bacon Old Fashioned
Start with a Demerara Sugar Cube in a mixing glass. (It's like brown sugar, but it is raw, large-grained sugar with natural warm caramel notes.)
Add a few drops of Walnut Bitters and Orange Bitters to the sugar cube. (We used The Mill's exclusive house-made bitters.)
Smoke the glass with BriarWorks Bacon Old Fashioned Tobacco. (Light some tobacco on a dish, then cover it with the drinking glass. It will go out and the smoke will permeate the glass and add a smoky flavor to it.
Add 2.5 oz of Bacon-Washed Dickel Whisky #8 (Here's an article on how to bacon wash whisky.)
Stir well, serve on the rocks, (preferably one very large ice cube) garnish with candied bacon and orange zest, and enjoy with your favorite pipe.

Ryan Lights the Tobacco to Smoke the Glass
—————————————————–
Beach Drive in Downtown St. Pete is where both the locals and tourists play. It is filled with boutique retail shops, museums, galleries, horse drawn carriages, beautiful city parks, and St. Pete's fabulous waterfront. Tryst Gastro Lounge is smack in the middle of the action, and I'm one of the "regulars". They serve modern eats with a cosmopolitan flourish. It's a loungey space with Victorian accents and a long marble bar.
I'm friendly with all of the bartenders there, but one of them recently started smoking a pipe, and volunteered to take on the task of a new drink invention. Pat Lee, Kung Fu Master Mixologist, led the charge on this one. I was impressed by the teamwork and enthusiasm of other staff members as well.
When I arrived, Shellie Edmunds Assistant Manager & Sommelier told me how much she loved her mission of helping Pat shopping at a gourmet specialty store to get six different kinds of fresh peppercorns for the peppered bacon. They both came in on their day off just just for me and PipesMagazine.com. Executive Chef Sean Ford made the bacon, and also cooked up a new menu item for us.

Shellie Edmunds Assistant Manager & Sommelier at Tryst Gastro Lounge

Pat Lee, Kung Fu Master Mixologist at Tryst Gastro Lounge
Checks the Aroma of the Bacon Old Fashioned Tobacco

Six-Peppered Bacon: Black, White, Green, Pink, Szechwan, and Long Peppers
The Tryst Gastro Lounge Peppered Bacon Old Fashioned
Orange Wedge
"Filthy" Black Cherries
Fee Brothers Lemon Bitters
Maple Grove Farms Maple Syrup
6-Pepper Bacon Infused Elijah Craig 12-year old Kentucky Straight Bourbon Whiskey
Garnish with 6-Pepper Bacon, Orange Wedge, and "Filthy" Black Cherries.

It took four hands to create this ice cube wrapped in bacon, lemon zest and black cherries.

Tryst's Executive Chef Sean Ford (R) Delivers the newest dish –
Compart Farms Premium Duroc Pork Shank braised in Crispin Cider.
Tillamook Cheddar & Sour Cream Grits. Ham hock collard green and Anson Mills Grits.
8 Responses