Wet Shaving, Pipes, and Gentlemanly Pursuits
Wet Shaving, Pipes, and Gentlemanly Pursuits
James Foster

In the past year, PipesMagazine.com has broadened it's horizons by reaching out past just pipes and tobaccos to include other topic areas of interest for the pipe smoker lifestyle. We have Steve Morrisette's column,
the Gentleman Smoker, and Ethan Brandt's column, The Speakeasy for example. While participating in our little pipe smoking and collecting hobby, we've noticed that some of you also have a hobby of growing big, large beards. Well, this article isn't for you … unless you want to do some wet shaving. For further proof that wet shaving and pipe smoking go together, read this forum post from 2008.
WetShaveClub.com was nice enough to send me a box to sample and asked if I would write an article about it. Since old school wet shaving and the pastime of pipe smoking both have an air of nostalgia to them, we thought we'd give it a go. Also, there is a story here that involves a pipe smoker. So naturally we're going to cover the box I received but I'm also going to talk about one of the products that a fellow pipe smoker (and cigar smoker) happens to peddle.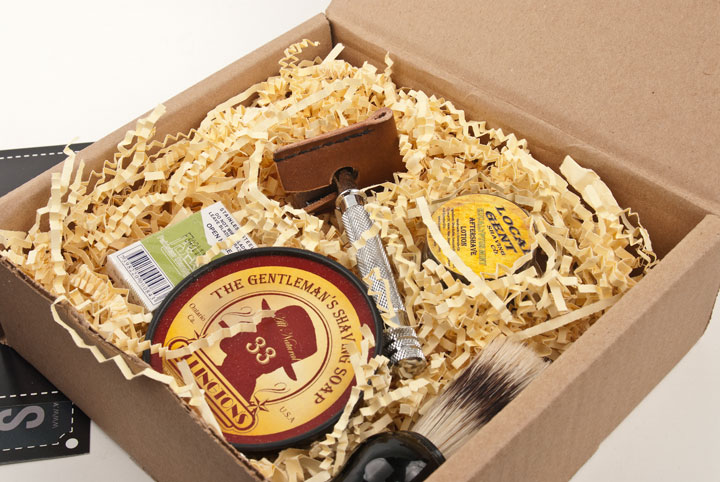 Wetshaveclub.com is like some of the other companies out there that is a monthly "box" type of club which is all the rage nowadays.  What sets them apart is they spend time looking for great products to include in their boxes for shavers that are niche, and outside of the normal purview.  When you sign up for the club at $29 a month for 1 month or $24 a month for 3 months or as little as $19 a month for an entire year, you receive first a box with a razor, soap, brush, after shave, and blades.  Then each additional box contains other shaving products to bolster your shaving needs and introduce you to new products that you might decide to make your daily shaving product.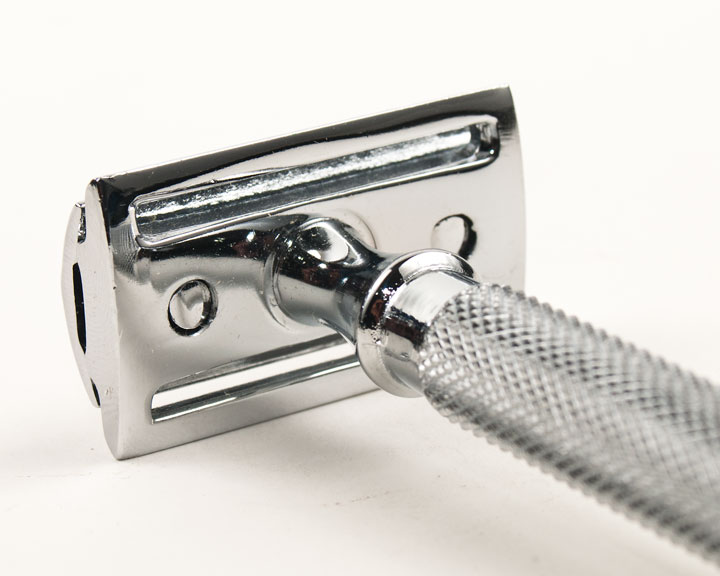 Much like the many pipe-smoker starter kits out there that weigh quality, value, and price in the selection of the items I think wetshaveclub.com is a great way to introduce you to wet shaving or re-introduce the time-old tradition of wet shaving.  The price point on this really is great to be able to sample products across a longer time period.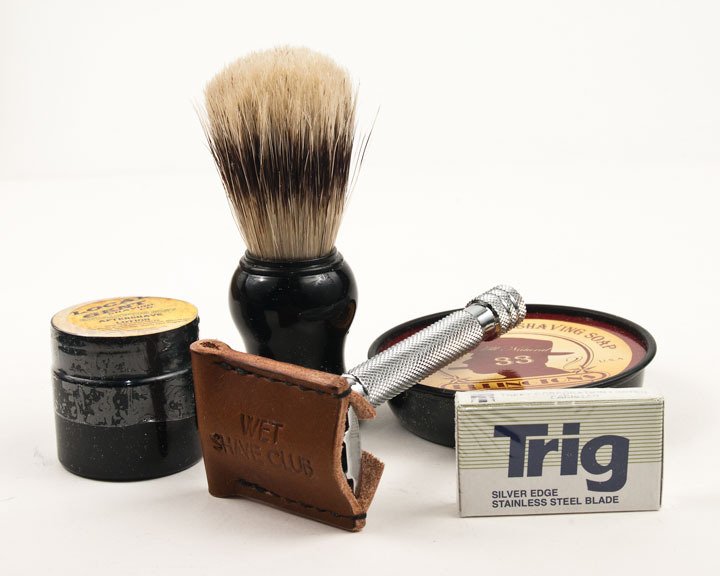 The box I was sent was the "January" box and it included a wetshaveclub razor, boar brush, some aftershave from Local Gent Shaving Co. and Ellington's Soap — where the inside of the cover states "A Gentleman thinks before speaking, dresses for the occasion, and loves his mother."
Ellington's is the brainchild of Obie Hughes who is a tattoo artist by day, saxophone player by night, and purveyor of fine shaving and skin products everywhere in between.  Oh, and lets not forget: A Pipe Smoker.
For his day job, Obie is a tattoo artist extraordinaire and cut his teeth working early on with Corey Miller (Better known on the TV show LA Ink) for about 10 years before opening his own art studio and parlor Speakeasy Tattoo.
"It is a private, appointment only type studio located in an industrial complex off the beaten path so you won't see any neon tattoo signs or anything.  It's decor mimics the styles of the early 1930s and has the feel of the old underground drinking establishments during the  prohibition era in America… like an old "speakeasy" complete with velvet curtains, vintage wallpaper and rich mahogany trim .. hence the name of the studio,"   Says Obie.
See if I wanted to get a tattoo, that sounds like just the right place for me to get one.  And I suspect the music I would hear would also hearken back to the same era.  Much like Obie's nighttime gig playing Baritone Sax for the group Rumble King (www.rumbleking.com)
"We have performed at all the major festivals that feature roots rock n roll over the years and have had a steady gig at Disneyland for about 10 years now.  You can also catch us at nightclubs regularly on the west coast."
Not only that, they have 4 full length albums out, a couple singles, and a short music video and they have been doing this for over 18 years!
Obie's story is unique and what had started out as merely a product review for wetshaveclub.com turned into a full on interview so I'll share with you what I found out:
You're a throwback type of guy, how did you grow up?
As a child and through high school, I had always been drawn to the culture and music of the past.  My first car was a 1955 Chevy Bel Air  and have since owned a dozen or so classic cars and Harley Davidson's in my day.  The first time I ever greased my hair back (Murray's and Tres Flores Pomade for decades before switching to water based) was at 10 years old but truly started living the lifestyle as a freshman in high school.   Musically my earliest influence was Elvis Presley via my Mom who is still a huge fan and from there I just dug deeper.  Researching the musical influences of Elvis lead me to all the rhythm and blues artists of the 1940s and then to all the jazz musicians of the 20s and 30s.
How did you develop your line of aftercare products?
With my background you can understand a little about where the marketing influences are drawn when it came to establishing my ideas for Ellington's All Natural Gentleman's Aftercare.  This was not a marketing scheme trying to capitalize on a growing trend.  With my background in the art, music and culture, I design by hand or computer everything from logos, labels, t shirts, shop towels, containers to websites for the company.  And Like the artwork, all of our products are also hand made.  About 5 or so years ago I was exposed to the art of making handmade all natural organic soap and lotion through a company called Gypsy Soul Organics, owned by Yoga instructor and Aroma therapist  Amy Mullin, who also happens to be my "better half" and the brains behind the Ellington's Recipes.
What was your first product?
The first product we decided to develop out of more necessity than desire was what is now our Ellington's SuperNatural Salve.  This took the longest to research and develop.  Originally, this was created to help heal recently tattooed skin.  I had grown weary of recommending petrolatum based healing agents to my clients and wanted to create a more natural and organic healing agent.  Something with simple ingredients that I could in good conscious recommend for my tattoo clients.   I also wanted it to be affordable.  There are a few other all natural healing agents but most are double the price of more commonly used petrolatum based skin products.  So I wanted something that was organic as well as affordable.  After a good year of research, development and personal use, we finally came up with a product that we love, believe in, and use daily.  And in the process of creating what was meant to be catered to the tattoo community, we realized that the salve had many other uses.  Through personal use and feedback from friends and family, we discovered that not only did the salve work great for tattoos, it worked for just about any minor skin irritation such as bug bites, diaper rash, cuts, scrapes, minor burns, chapped lips, dry skin, eczema, and most recently as a beard balm.
Ok, so how did you migrate to shaving soap?
An annual birthday tradition for me personally, is the classic hot towel shave.  Which has always been another intriguing art form often glorified in classic Hollywood gangster films.  So the Ellington's Gentleman's Shaving Soap seemed like a great idea for the second product.  With Amy's  experience in making organic soap with Gypsy Soul Organics, we were able to figure out a beautiful recipe that gives Ellington's that nice rich lather.  For convenience we decided to offer the soap in a classic gold can with room to lather without the need of a shave mug. And for fun, each can includes a hand drawn instruction sheet and hidden trinket at the bottom. The shaving soap is off to a great start and as you know was featured in the January Wet Shave Club.  We followed up the Shaving Soap with our "Wide Eyed Whiskey Cider Aftershave.  An all natural apple cider vinegar base with woodsy spice aroma and a splash of bourbon.  In the very near future we will be offering the soap and aftershave with a second aroma.  On the opposite end of the spectrum, we are almost finished with our new minty tropical citrus aroma.  And we use the term aroma not to sound fancy but because we only use all natural essential oils as opposed to synthetic chemical fragrances.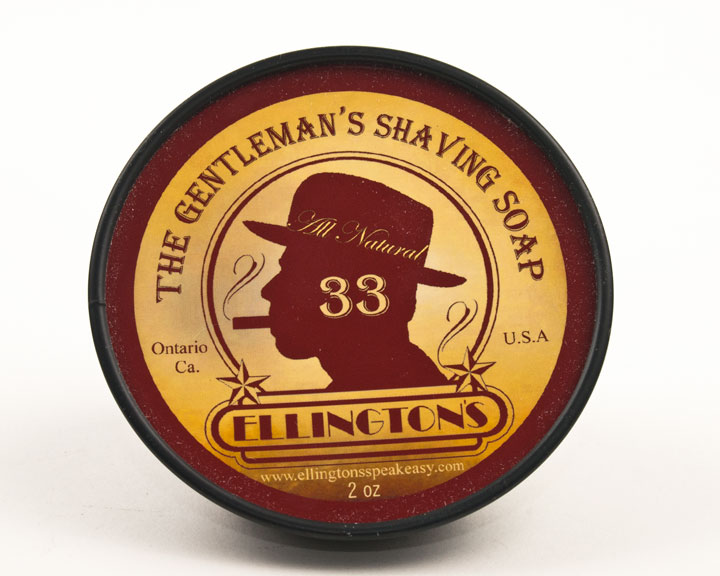 How did wetshaveclub.com approach you to include your soap in their box did they say "Hey, we need a metric poop-ton of soap from you,"?
Pretty much.  I'm guessing that they just did a search for shaving soaps on etsy and liked the look and concept of Ellington's. I'm not sure if it was the logo or the fact that it was all natural or both. At any rate we sent them some samples. They loved the lather and scent and decided to use us for the January wet shave club.  Our original gold tin can was a bit heavy for their usual box so we decided to use the plastic container for the order.   We had already been experimenting with the disposable plastic container idea for a travel version of Ellington's and for single use shaves for our barber shops clientele. The wet shave club contacted us in early November so it was good we had a little time to fill the order. All of our products are handmade so it was good to have some advance notice.
How long have you been a pipe smoker?
Just a couple years.  Still a bit of a rookie at the art of packing a pipe and overall etiquette.  I have some very close friends that are avid pipe smokers that help me along the way.  Like I said I'm quite a bit more experienced with cigars.  What I do like about a pipe is that the smoker has the option of packing a 10, 20, or full hour worth of tobacco "on the fly" as opposed to a predetermined cigar size. My favorite pipe is my Vauen pipe I picked up in Germany.
What type of tobacco do you like?
I don't necessarily lean toward English Tobacco, it's just what Santa Claus brought me this year.  I tend to like a more bold flavorful complex smoke whatever the brand or where it is grown.  Anything that changes it's flavor as the smoke continues is a plus.  I've never been a cigarette smoker and don't care for that at all. So the further  away from the taste of a cigarette, the better.  I am not big on the flavored tobaccos.  Earthy, Spicy with a hint of sweet is perfect.  Any recommendations ?
And that sums it up. Feel free to drop Obie a line on your recomendations for him and you can learn more about Obie's shave soap at www.ellingtonsaftercare.com.  For those who follow instagram you can also check out his instagram account here. And more about wetshaveclub by going to www.wetshaveclub.com.  A special thanks to forum member msandoval for his expert photography.

James Foster goes by the online handle of Pylorns in the forums, and he is the creator of an app for keeping track of your tobacco cellar inventory called The Pipe Tool and serves as the President of the Austin Pipe Club.