We wish to thank all who supported our 2010 Chicago Pipe Show.


The Show was a great success in many ways. All of the 305 exhibitor tables were sold out and we were very lucky that only two exhibitors who were affected by the Icelandic Volcano eruption did not attend, one being the Bisgaards, who advised that they would be at the Show next year.
The Show's activities and seminars were outstanding, starting with the new revised, two day, Pipe Making Seminar, the Pre-Show on Friday, the limo and champagne rides to a high end discount mall, the Friday evening Welcome Buffet Dinner, the ladies Arts and Crafts Program by Linda Cobine/ Scarf Art and Painting (Part II), etc. The Show itself had a very good crowd. There were many buyers at this Show, especially the delegations from China.

Many of our exhibitors sold out, with a couple selling out their complete inventories on Wednesday and Thursday before the Pre-Show and had little, if anything to place on their exhibitor tables when the Show opened up on Saturday.
The Pre-Show sales were higher than last year. One pipe carver from Great Britain said that he was surprised by how many pipes he sold at the Pre-Show. Most of the Pipe Show exhibitors stated that they had a great selling Show on Saturday and Sunday. Even the Post Show had some great dollar sales during the early morning hours on Monday, while the resort guests were waiting for their rides to the airports.
I spoke with most of our Show visitors on Monday who where staying at the resort. I went up to one carver from Denmark and asked if he had a good Show. He walked up to me, with his head down and I became concerned. He then smiled and said that he was tired, for he had not paced himself during the Show but that he and his brother had a great Show, selling out by 3PM on Sunday afternoon and that they had already reserved their exhibitor table for 2011 and could not wait.
The Tent was again a big success with so many visitors, especially on Thursday, Friday and Saturday evenings. It was the best place in town to smoke your pipe or cigar and visit with old and new friends. On Saturday evening the Tent had a 10th Anniversary Party, from 9PM to Midnight, with free food and drink plus live entertainment, sponsored by Sykes Wilford and Smokingpipes.com. The tent was so crowded that we had to place additional tables outside of the tent. The music was great, the companionship outstanding and the overall experience was one that will be remembered for years and become legendary.
Even my wife Ann and I danced for a few seconds to the sound of this great band. Later I found out, to my embarrassment (for I can't really dance), that our pictures were put on the Internet. I still use a rotary phone. High tech scares me! Next, they will ask me to be a contestant on Dancing with the Stars!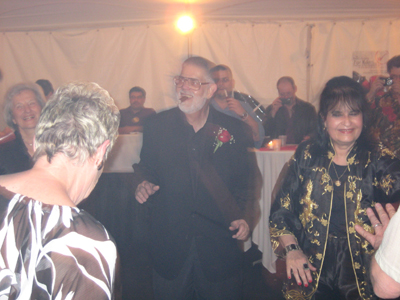 The weather for the most part was very good, except for the high winds on Thursday and part of Friday. Our Show visitors were playing golf, walking the resort property; some sitting outside and enjoying the warm temperature, while the majority of guests were constantly viewing and buying pipes and tobaccos.
The resort was prepared for our large group, the property was immaculate, the staff was very friendly and the food fantastic. All of our activates were on time and if anything was needed the resort staff was there to help.
We had exhibitors and visitors from 63 countries and one could constantly hear men and women speaking in foreign languages. It sounded as if you were at the United Nations. All were having fun. Several said that this Show was like having Christmas in May. Others said that it was sensory overload, just in viewing all of the pipes and tobacciana. One gentleman from Germany advised that this was his first Chicago Pipe Show and he could not wait to return next year, with more cash, to buy some of these pipe masterpieces. Another visitor from Belgium was showing his prize purchase, a pipe that he had been looking to buy for years and he finally found one, at the Chicago Pipe Show. The next day he showed us another pipe from the same carver that he found and immediately purchased. He then showed photos of the pipe carver and himself holding the individual pipes.
Others advised that they have learned to use certain strategies at this Show, in order to find what they were looking to buy. One man from Portugal was disappointed for he found the pipe that he had wanted to buy for years but hesitated and the pipe was sold to another, in front of his eyes. He offered this man $50.00 more than he had paid for the pipe and was told no! He was heart broken and when he told me the story, he said that he had learned a lesson the hard way but that it would never happen again.
The Doctor of Pipes Awards were given out on Saturday and they went to two deserving gentlemen, in the Trade Category to Alan Schwartz of XYZ and in the Hobbyist Category to Fred J. Hanna. Congratulations to Alan and Fred.
| | |
| --- | --- |
| Mary McNeil & Alan Schwartz | Fred Hanna |
The two CPCC Briar Award winners for their display of their collections at the 2010 Chicago Pipe Show were: Bobby Eichorn, for Best Briar Collection and Louise Pavonetti Jones of Hermit Tobaccos (private collection) for Best Briar Display.
There were four Director's Awards given out to those selected to have CPCC Educational Displays. These outstanding displays were at the entrance to the Show, for all to view. The awards went to Dennis H. Congos for his Charatan Pipe Collection, Anthony Macaluso for his Peterson Mark Twain Collection, Fred J. Hanna for his Straight Grain Briar Pipe Collection and to Jacques Craen of G.Vincent-Genod Pipe Co., St. Claude, France for his rare pipes and tobacco boxes from the 17th, 18th and 19th century.
I again congratulate all of the above award winners. They all deserved their awards.
If you were not at our Show, you can still enjoy the stories that your friends who were at the Show will share with you. Every exhibitor and visitor has stories about this Show and if you wait long enough you may hear many of them.
I again wish to thank you all for your continued support of our Show. Craig Cobine will be the new Show Director for 2011. Please give him the same support and courtesy that I have been given over the 15 years of this Show. Due to medical reasons I have stepped down from this position but I am planning on being at the 2011 Show as an exhibitor. Come by and say hello.
Frank
For more of our coverage of the 2010 Chicago Pipe Show, Click on the following links:
8 Responses