Briar Portrait Gallery Unveils "The Pipe Smoker's Poker Deck"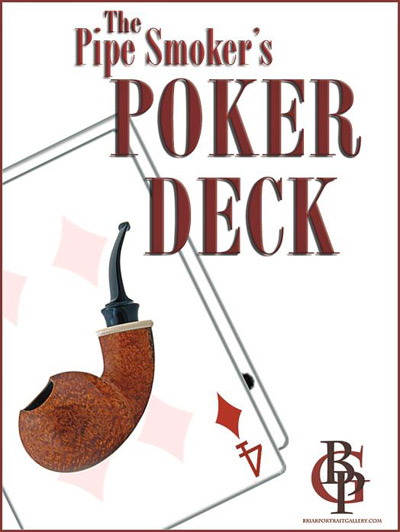 Kansas City, KS – The Briar Portrait Gallery (BPG) announced today the launch of its newest product, "The Pipe Smoker's Poker Deck" just in time for the Chicagoland Pipe Collector's Club Pipe Show. This beautiful 54 card deck features full color portraits of pipes from over 50 of the world's most beloved pipe carvers.
The initial run of the deck will be packaged in a limited edition "Nostalgia" tin. The run will be limited to 500 decks and will be a suggested retail of $16.99.
BPG founder and deck designer, Dustin Babitzke, is thrilled that the launch will coincide with the Chicago show. "I've been working really hard with the playing card manufacturer over the past four months to get this deck just right. When I saw heard the news that the decks would be delivered on the last day in April, I was ecstatic! Chicagoland here we come."
BPG has been a steadfast proponent of the UPCA and NASPC and wants to use the initial release of these decks to help promote Pipe Clubs nationwide.
BPG will be donating 10 percent of the proceeds from the sale of the deck to a pipe club (registered with the UPCA) of the purchaser's choice. Pipe Shops and Pipe Clubs around the world will now be able to enjoy their favorite card games while getting to appreciate some beautiful works of art in the process.
This is just the start for "The Pipe Smoker's Poker Deck" series. Pipe shape specific decks, country of origin specific decks, and custom decks for dealers and pipe makers featuring their logos and pipes are already in the works. Decks will be distributed through BriarPortraitGallery.com and on sale in person at the Chicagoland Show. A limited quantity are available for online dealer and retail store purchasing. For more information on distributing or custom deck design please contact the Briar Portrait Gallery at dustin@briarportraitgallery.com.
About Briar Portrait Gallery
The Briar Portrait Gallery was founded by Dustin "Big D" Babitzke in 2012 to help promote the beauty and artistic expression that has emerged from the modern pipe making movement. The Briar Portrait Gallery has been working with pipe makers and pipe clubs from around the world to showcase the talent and skill of today's top Artisans. The company's main goal is to show the world that our hobby is not just about a "quick nicotine hit"but about a fine appreciation of the nuances of materials, craftsmanship, and true woodworking mastery that goes into the creation of a pipe.
2 Responses