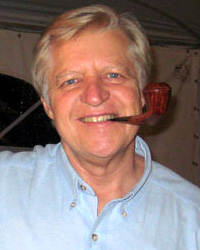 If you've been in the pipe hobby for a little while, or have been to some pipe shows … or if you just like to read about pipes, then chances are you have read, met in person, or have heard of Rick Newcombe.
Rick has been in the pipe hobby for a long time as an avid collector and writer. He has been published in Reason, Pipes & Tobaccos Magazine, Pipe Friendly, The Pipe Collector and The Pipe Smoker's Ephemeris, as well as on our site. You can also bump into Rick at many of the pipe shows around the country.
Rick's book, "In Search of Pipe Dreams", has received praise from numerous well-known pipe hobbyists and tobacconists. We read the previous edition and highly recommended it. Now the latest edition, in it's 6th printing, is even better.
"In Search of Pipe Dreams" is newly updated with lots of new information. Rick talks about how the digital revolution has reinvigorated the pipe hobby, with a mention of PipesMagazine.com along with other new text. There are also 16-pages of new color photographs by famous LA based photographer Robert Gardner. The book chronicles Rick's travels around the world meeting with pipe makers, collecting pipes and smoking pipes. There is a nearly famous discussion of Rick's controversial idea of "opening up" your pipes to create a larger draft hole. There is information on how to quickly color a meerschaum pipe and lots of other intriguing pipe discussions.
This is a great book that you should get now for your holiday reading or as a gift for your pipe smoking friends.
Sykes Wilford's interview with Rick about "In Search of Pipe Dreams"
Order "In Search of Pipe Dreams"

2 Responses