Is there a tobacco shortage or a pipe boom … or both?
Is there a tobacco shortage or a pipe boom … or both?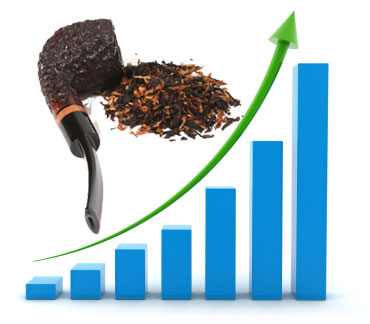 I'm not sure what to make of this. Is the pipe smoker market growing at a pace where producers have underestimated their production?
You may have seen Mac Baren's advertising here in September and October. They renewed for two more months of advertising and then requested their ads be pulled because they are completely sold out of 7 Seas.
There's a perfect example of an ad campaign being the victim of its own success. Their ads will go back up when they are back in stock, hopefully in December.
Next up: Villiger 1888 tobaccos. They were going to take the "peel ad" in the upper right corner of the home page, but that's canceled as they are out of stock.
Villiger-Stokkebye is also selling their new bulk blends like crazy because Lane can't keep up with production of 1Q and BCA. Stokkebye has their own replacements that shops are buying like crazy.
And then there's Dunhill tobaccos. There's lots of questions there, and one of the main ones is concerning the availability.
Samuel Gawith can't keep up either, and there are other tobaccos that are hard to get.
Is there a pipe boom on the horizon?
I hope so, but let me get stocked up first.
12 Responses
Error thrown

Cannot use object of type WP_Error as array