G. L. Pease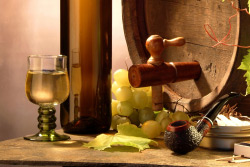 The Pinot harvest is officially over, at least in our little corner of the world, and the juices have been merrily fermenting away. It's been an incredible experience for me to work with and learn from Scott Rich of Talisman, enduring early mornings picking in the vineyards (those who know me know that I do not normally get up before the sun, but I somehow managed), endless hours hand-sorting clusters, de-stemming, macerating, punching-down, pressing, barreling. Now begins the seemingly endless wait for the wines to luxuriate in their oak casks for as long as two years until ready to be bottled, and then to rest in the bottles for another year or so before being ready to drink. Fortunately, I've got some bottles from previous vintages to enjoy in the interim, though not nearly enough of them to last.
Again, I find parallels between wines and tobaccos. In many ways, at least with the better examples of each, they are on a similar schedule. Though it takes many years of careful cultivation for the vines to deliver their best fruit, while tobacco plants go from seedling to stalk in a matter of months, we can reasonably start the clock at harvest time. In a couple years, I'll be participating in the bottling of wines that I had a hand in making, and will be working with tobaccos from the same vintage. Those wines, and those tobaccos, though certainly enjoyable then, will next begin an evolution into something even more wonderful with the passage of still more years.
During all this, I've been working hard on a new blend that will begin shipping later this month, made from tobaccos that first emerged from the soil two to three years ago, and I plan to put some tins away to enjoy when I uncork the first bottle of the 2013 Pinots. It's a starkly different time-line than the three minutes it takes for me to brew a press-pot of coffee in the morning.
I pulled two questions from the mail-bag this month, or four, depending on how you count them, but I thought they were interesting enough to devote some significant space to, so let's get going.
Steve asks: What is the purpose of casing tobacco? I've heard that the casing doesn't affect the flavor of the tobacco as it's just adding sugars, but then others say that casing does change the taste of the tobacco. What's the real deal with casings?
A: What a great question! There are sort of two answers, one easy, one less so. First, the easy one: Not all casing is simply the addition of sugars. In fact, in most cases, additional flavorings are also added at this early stage of processing. Anise, liquorice, chocolate, vanilla, brown sugar, molasses, various fruit and spice extracts, are common additions to the casing sauce, and each of these things can make a considerable contribution to the overall flavor profile of the finished product. So, though one of the purposes of casing is to add sugar to the tobacco, which can help tame a hot burning leaf, it's actually uncommon for casing sauces to not have additional elements, which probably makes clear why cased tobacco usually tastes different from the same leaf left in its natural state. That's the easy answer.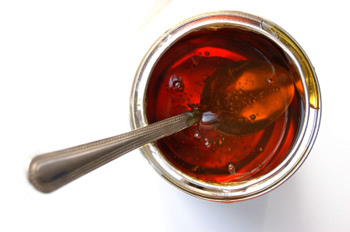 The harder answer is that even if there is no additional flavoring added during the casing process, the resulting tobacco would taste very different from the original, for a few reasons. The additional sugars will affect the overall chemistry of the smoke, alter the way it burns, the pH, the ash content, even the moisture content, all of which will change the way your palate perceives it.
To go a bit further, let's use a culinary example. Imagine a summer peach, perfectly tree-ripened, juicy, succulent, naturally sweet and deliciously packed with peachy goodness. From the moment you get the first whiff of it, you're mind begins to anticipate its taste, and that first bite is the very essence of summer itself. As the juices run down your chin, there is no mistaking what you're eating. Now, imagine a tin of the same peaches, preserved in a heavy sugar syrup. Of course, you're going to expect them to be sweeter, but what happened to all that peachiness? Where's the aroma we expect from the pure fruit? Where's the depth of flavor, the characteristic that identify it? It's there, somewhere, but it's hiding behind the heavy curtains of that syrup. Even the texture and what we often refer to as "mouth feel" is different. They're both peaches, but one is delivered in its pure state, the other transformed into something still enjoyable (my father loved tinned peaches), but very different.
The same thing happens with tobaccos. Compare a natural, high-sugar virginia with one that's enhanced with sugars, and you'll find two very different experiences. One is the pure expression of the leaf itself, the other something quite different. Again, they can both be delicious, but they can be so different from one another as to not seem like the same leaf at all.
So, why are tobaccos so often sugared? Again, there's more than one answer. With virginias, which often have a very high sugar content to start with, it can be done to make the finished product more consistent. While the difference between 20% and 22% sugar may seem small, it's actually very noticeable to most smokers. Some blenders might use different leaf in a combination to maintain a consistent taste, while others might rely on their casing to accomplish the same thing.
Or, in the case of burleys, which have little or no natural sugars once the leaf is cured and aged, casings are added to smooth out the taste. Contrary to common belief, high-sugar leaf does not result in "bite"; the opposite is actually true. Raw burley can be very aggressive to the tongue and throat due to its higher pH; blending with sweet virginias, or adding sugar through casing does much to tame the "burley curse."
Finally, blenders sometimes develop a "house style" through the use of unique sauces, which is one of the reasons people often gravitate to a specific brand, or away from another. Casing is just another tool in the blender's box of tricks to deliver a product with a consistent taste and aroma profile to the smoker.
Phew. See? Not so simple.
Ed asks of me these questions three, ere the other side we'll see: Three questions if I may trespass on your generosity and patience. Well, to be honest two questions, one supplementary and a request for an encyclopedic explanation of condimental tobacco.
My first question is on the ageing of Robusto – simply the best mixture I have smoked in 35 years. I have cellared about 5-7 years supply (depends on how much your other blends distract me) but how long will it retain the characteristics of a "stout and stalwart companion" ? I am thinking mainly about the nicotine strength and speed of combustion. The motive behind this question is that I would like to extend this stockpile as I fear that here in the UK there may soon come a day when importation is no longer possible. Also will Robusto (or any other tobacco – this is a sort of general supplementary question) age differently in two and eight ounce tins much like wine in half, full size and bigger bottles?
My second question is on blending, not the magic of mixing tobaccos to find a new taste where the fun is to experiment, but a specific maneuver. Is there a tobacco that can be added to an existing blend to give it a greater nicotine strength but not change the blend's other characteristics? To give an example how might I make Laurel Heights the same strength as, say, Robusto but keep its characteristics of taste, density of smoke and coolness (it is the coolest smoking virginia mixture I have ever come across)? Well I admit that is a bit of a stretch but at least edge it a bit in the desired direction.
The last question is really more of a request for you to extend your fascinating series on the growing and processing of tobaccos (especially how differences in method/location can change the outcome) to the condimental ones especially perique, kentucky, latakia (Cyprian only as I fear Syrian is now sadly of historical interest) and the cigar leaf in Robusto / Key Largo. Maybe one a month as the whole lot might overload a single article.
A: Great questions, and I wouldn't dream of breaking them up, so here goes. (And, thanks for the compliment on Robusto.) The way a tobacco mixture will age over the long-term is a complicated thing to predict. One thing that is certain is that the processes slow down over time, being most rapid in the first few years of the tobaccos being tinned, then tapering off to a relative plateau, and finally beginning a slow descent. How long this takes depends on the tobaccos in the blend. On the one side, virginias and virginia/perique blends seem to have life expectancy that's longer than ours. I've tasted Three Nuns with 60 years behind it, and it was sublime, suffering not the slightest from all those decades of rest.
On the other hand, latakia mixtures, according to some, reach their peak in the five to six year timeframe, and then begin to decline more rapidly. Personally, I think this has got more to do with the overall makeup of the mixture than with the latakia, itself. Yes, the smoky stuff gets softer, loses some of its edge, but that transformation can result in something elegant and beautiful if the overall structure is solid, much in the way a powerhouse premier cru Medoc can, with the passage of time, gracefully transform into something of elegance and complexity. If, on the other hand, there's little beyond the loud voice of latakia, the blend will get dull, flat and boring, like a youthful, bright Beaujolais Nouveau, pleasant enough in November, but long since dead by Easter. I've smoked plenty of mixtures that retained their charms well into their thirties, and continue to shine.
Strength is a different matter. Though there's nowhere for the nicotine to go, and it doesn't seem to break down through aging (I recently tasted some 99-year old virginia cigarettes that about knocked me on my backside), the pH of the tobacco can change with age, resulting in a greater or lesser effective strength, as nicotine is more quickly delivered to the bloodstream in alkaline environments than in acidic ones. I don't know of any studies on this, but anecdotally, some tobaccos I've smoked have seemed stronger when aged, some milder, so the jury is still deliberating with Robusto. The oldest samples I've had, about ten years old, have still been plenty stout.
And, yes, package size matters, but it's different from wines, where aging is mediated by the volume of the bottle's contents in comparison with the gas exchange through the cork. In tobaccos, the density of the packaging makes quite a difference. Our 8oz tins are more tightly packed than the 2oz ones, thus having less free oxygen, so the aging dynamics are different. It's not so much a faster/slower thing as it is a matter of difference. And, once the tin is opened, new changes begin to take place, like a wine's "breathing." Personally, I prefer the smaller tins for aging, and the larger ones for regular smoking.
Now, on to the second question. Any tobacco you add to an existing blend will change its character in profound ways. You could add something like a Kentucky dark-fired to increase strength, or a strong VA leaf, but it will also change the taste and the smoking characteristics significantly. Burley can be very chameleon-like, so it might be a good choice. When first blended, its distinctive, nutty taste is very prominent, but this will change over time, taking on the characteristics of the other tobaccos in the blend. It won't disappear completely, but it might be the best way to get a little more kick out of a blend without changing it too much.
Now, for your third question. That does sound interesting, and would be fun to research, but it might be of little more than academic interest, overall. In order to isolate the effects of growing conditions from the seed stock itself, it would be necessary to grow the same cultivars in different soils, in different climates, under different agricultural practices. I'll certainly put it on my list of things to look more deeply into. There might be some good starting points in the literature already.
Wow. That's it for this month; I'm spent. Keep those cards and letters coming!
-glp
More Pipes and Tobaccos Articles
7 Responses