This weekend I had a chance to pick up a few more estates. I know I have been posting a lot about them lately so let me know if it gets annoying. I don't know a lot about these so if anyone has any information that would be helpful. Unfortunately two of the three aren't really my style so they will probably be going up on Briarbid after a restoration, but I couldn't let them sit in that antique shop anny longer.
On a side note when I was checking out this guy was standing by the register and said I should have been there when the lady brought in those pipes. She had dozens of Dunhills, Savinelli's, Stanwells, Ben Wades, Petersons etc. and was selling them for $15-$30 a piece!! I almost burst out into tears.
From left to right. Pipe one, Camoy's Lumberman 501. Pipe two, Savinelli punto Oro 141 KS. Pipe three, markings on the bottom of the shank Collectors Digby 501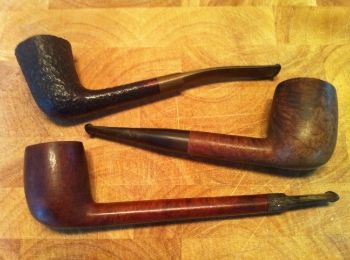 Does anyone know why my pictures don't stay rotated from the editing on photobucket after I post them here?