So, I thought I would share an encounter I had with a fellow pipe smoker that I thought was pretty cool..
I work for an IT company. We do computer repairs, networking, etc. We generally go into the field with appointments to go to people's residences or businesses. So, this particular appointment was at a retirement community that are set up like apartments. So, I already expected this customer to be some old, barely alive man that just sits there and watches soap operas and the Price Is Right all day. So, I walk into the building and tell the front desk attendant what I am there for and she sees me to the man's room. She told me to go down to the door and just knock on it. So I did. First thing that I noticed: a "No Smoking" sign on the door, which turned out to be quite ironic. I knock on the door and faintly hear a voice telling me to come in. So I entered the apartment and immediately get smacked in the face with a wonderful smell that I have come to be familiar with and love... pipe tobacco! So, as I walk in and introduce myself to this feebly old man, I'm looking around to see if I see any pipes, and of course, there are four beauties sitting next to him on the side table along with an 8 oz. tin of some "original, natural" tobacco (cannot remember the brand, but nothing I have ever heard of). So, I began to work on his laptop (also old) and he struck a very short conversation. He was very Clint Eastwood-esque in how he talked and how he kept a stern, yet smirky look on his face. Next thing I know, he picks up one of his already packed pipes (the green one in the picture), grabs a match, and goes to town. The room filled with that perfect aroma of pipe tobacco. So he enjoyed his smoke, I enjoyed his smoke, and all at the same time, I repaired his laptop. For the record, as much as I wanted to, I did not tell him that I was a fellow pipe smoker nor did I have any conversation about it with him. I feared that I would cross some line and kind of lose my sense of professionalism. I do regret not talking about it with him though, as it most likely would have been a harmless conversation.
After he smoked his pipe, his caretaker told him it was lunch time, so he went down to lunch while I finished up his computer. I snapped this picture while he was gone: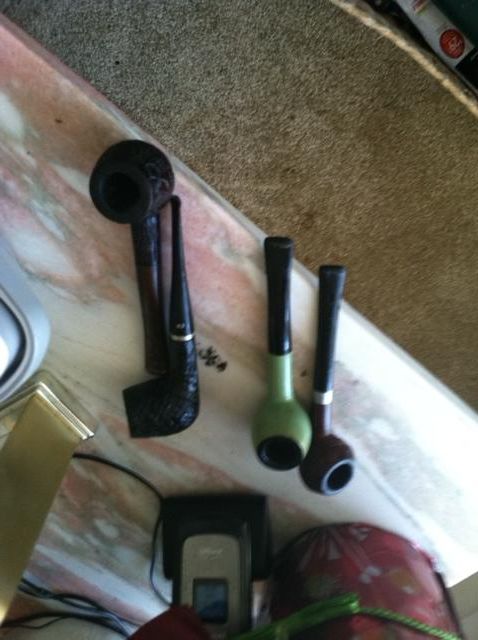 Sorry for the long post, but I just found it to be a very cool experience. One that I'll probably remember as I smoke my pipes in the future.. Thanks for reading fellas!