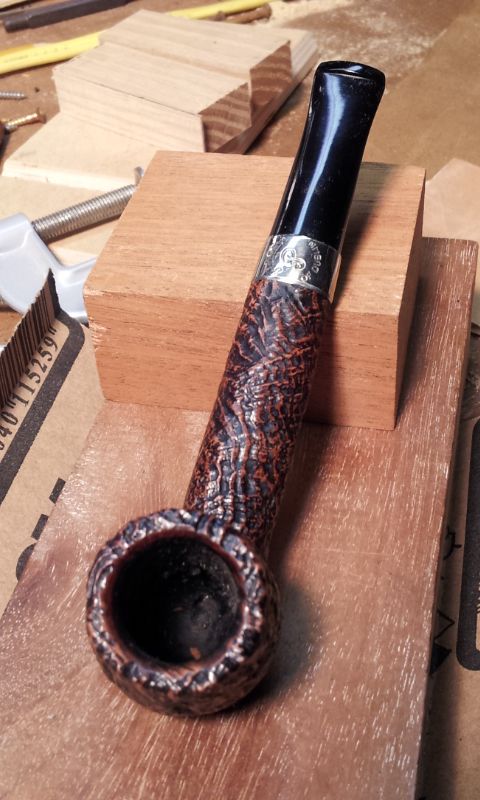 Yesterday I received this Peterson "Wicklow" 264 Canadian from Smokingpipes.com. The color and craggy sandblast is what caught my attention. The next thing I knew alarms were sounding and the PAD button was pressed. The Wicklow series is an exclusive at SP and after trying out this one I wouldn't hesitate to purchase another.
The Wicklow's have a brown under black stain which I like much better than the deep red under black that Peterson and many other makers use. The bowl has what would have been birdseye if not for the sandblast on one side and well defined concentric rings on the other that follow the curve of the heel. The grain is also dramatic on the wide oval shank. I love the look and feel of this pipe.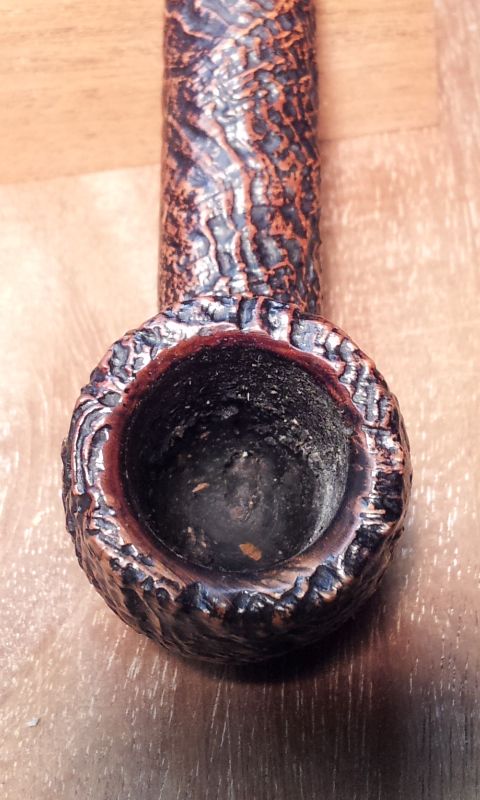 The air hole is centered and enters precisely at the bottom of the chamber. For the first smoke I loaded the pre-carbed bowl up with cube cut Mac Baren Vanilla Cream Flakes and enjoyed my new pipe while clear coating some wood trim in my workshop. I smoked slowly putting the pipe down often to let cool and managed to stretch the bowl out for the entire evening. The draw was perfect and I detected no trace of off tastes from the bowl coating just the sweet goodness of the Mac Baren leaf.
I love the texture of a sandblast and way an oval shank "self centers" while in the hand. I have a feeling this new Pete will see plenty of use. While I would have liked the Wicklow finish in a Lovat the Canadian style is a shape I didn't have in my Peterson collection and I am warming to it.