Let me start off by saying that Mr.Brog and his staff are wonderful, fast shipping and just plan old nice people.
Ok, now I own a modest collection of pipes, 31 at the moment, ranging from Dr. Grabow to Savinelli, with Petersons, Nordings, Medecos, and Keywoodie in between. Some were bought new, some estates. Of all the pipes I own, I never felt the urge to right a review about them because well lets face it, most of us have at least 1 of the pipe makers I listed above and we have all read others opinions of said brands or have formed our own opinions. That being said here is my review of 2 of the 3 new Mr.Brog pipes I am a proud owner of. The 3rd pipe has not been smoked yet, it hasent told me what blend it wants to be its first smoke.
Mr Brog Amigo 51...

When I first took this pipe out of the box I was AMAZED at the size of it. The fit and finish of this pipe is amazing. It is very light for its size and it is very easily clenched. I wanted to smoke it last night, but I was to tired after a long day and was not in the mood for an hour long if not more smoke. So today I tried her out. I planned on loding her with DH Nightcap, but as I opened the doors to my cellar, Spartans English just screamed to me, I know this blend very well, and I have smoked 4oz's of it over the last month. This pipe also comes with a filter that I removed before loading. I will admit I was a little intimidated by the size of this bowl, biggest I own. So I gravity filled to the top, tamped down ever so lightly to half full, did this again, tamped lightly to 3/4 full, and one last time packing her down to a springy wad of heaven.
Did the false light, little tamp and let her sit for a minute or 2. Now the full light, WOW, the draw was amazing, easy peasy, and the flavor of the SE just truly exploded in my mouth (shut up you perverts). I was amazed at the flavors I was pulling out of this today. Flavors and smoke that I have not achieved in any of my other pipes, but one. The bowl never got hot, the smoke was always cool, and for the first time ever I smoked this blend down to a fine white ash. No gurgles, no whistles, no nothing but a great smoke. There was no weird taste from the pear wood, nothing like that at all. In all honesty, accept for my Peterson Donegal Rocky 106, this is the best smoking pipe I own. I am going to buy the other 2 versions of this pipe, both have the finished top with different color rings. Also going to contact Mr Brog and see if I can get one sand blasted.
Ok, up next, Mr Brog Tabachos No 41...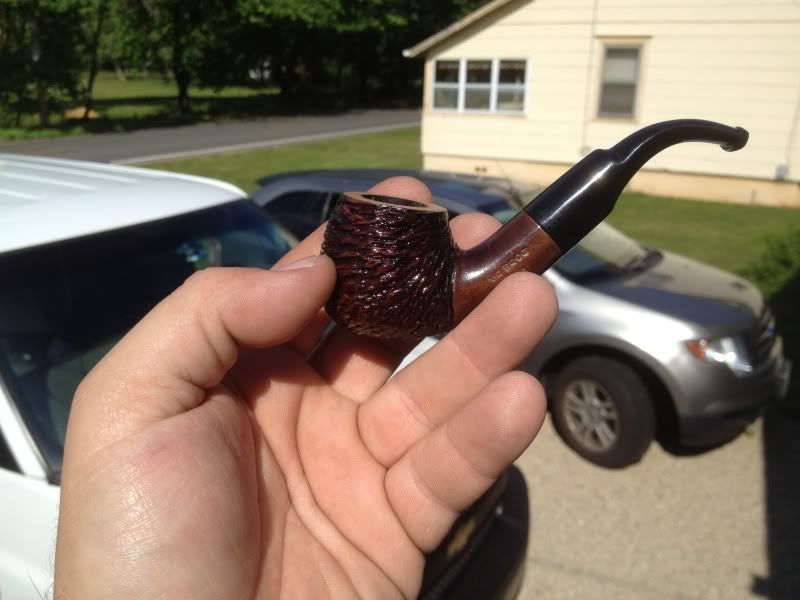 This pipe has a small bowl, but not so small that its a quick smoke. This one also comes with a filter that I removed. The fit and finish on this pipe also wonderful. The sandblast is in perfect correlation with the size of the bowl. It is a very light pipe, and the first bent that I own that sits very comfortably on my chin. Her first bowl was, MacBaren H&H Highland Blend. Again, like the Amigo, no weird taste from the pear wood, no gurgle or whistles, just a great smoke. The pipe feels a little dainty in my big fat hands, and especially after the Amigo, but other than the size, it smoked wonderfully, cool burn, no hot spots, and very comfortable. This will be my sit on the porch and read a book pipe. I dont have to hold it, it just rests there and does what its supposed to do. I am very pleased with this pipe, and it will be a part of my regular rotation.
All in all, these 2 Mr Brog pipes will be a favorite of mine for a long time, I cant wait to try out the third.
Sorry if I rambled a bit, but this is the first review of any kind that I have ever written. I hope I did these pipes justice.
Russ.