So, I like to look at the fresh in pipes over at SP.com, especially the ones I can't afford. I really like Ashton pipes - one day....one day.....
Anyway, on their front page now, is this thumbnail for Ashton: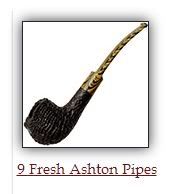 Unfortunately, click on it, and the pictured pipe isn't there. But it looks cool! Is there a way to find the product page of a sold pipe, I just want to see bigger pics and get more info!
"I said NO camels, that's FIVE camels...can't you count?!"
AJHvibes.com