I was in a reminiscent mood tonight, and decided to pick up a brair that I havn't smoked in a long while, along with some tobacco I have had setting around for a few years.
I chose a Castello Sea Rock, and found an unopened tin of Argosy Black that I remember enjoying a number of years ago. I used to smoke a lot of House of Windsor blends.
I liked Country Doctor, and Barking dog, and of course Argosy.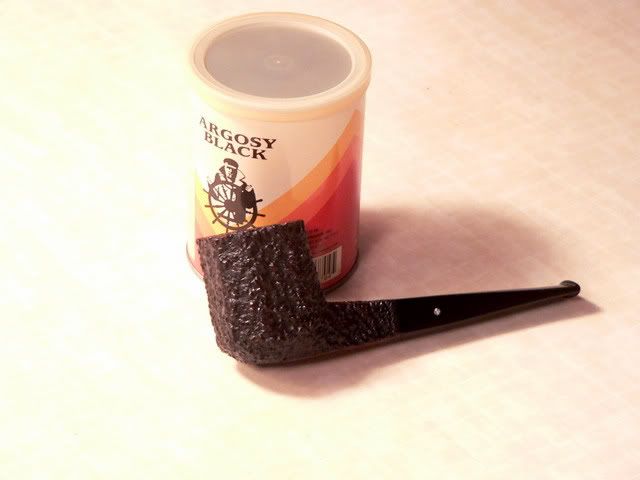 It's the last can I have of this blend, but I would rather smoke it than see it setting around, so I figured this was the night.
I'm not going to try and review this, as others can, and have, done a much better job of it that I can do, but it was just as good as I remembered.
In the process of looking for a tobacco to smoke that I haven't enjoyed in a while, I came across quite a few unopened cans of older blends.
I still have about 6 100gr. tins of Pipe Collectors Club of America, USA Series.
Do any of you remember them? lol.
Some MaCranie's 1983 Red Ribbon, quite a few tins of Rattray's Red Rapparee, Black Mallory, Hal o the Wynd, and Old London. Some Brebbia Reserva International Blends. I remember my favorite of these was their Sonata Blend, ( but I don't have anymore of that).
I even found a couple unopened tins of Craven Mixture. I remember liking that quite a lot. And a tub of Brindley's mixture.
Amazing what you tend to just stick away and forget. I will be happily going through these in the near future. After they're gone, oh well, I guess I will just move into the 21st century, and buy some more up to date blends.
I hope some of you still have some old favorites stashed away, and will just kick back some evening and let your tobacco take you on a backwards journey for a little while, as I have been doing this evening. Happy smoking.