So as some of you know, Ive had some troubles lately, but ive been doing better. I come on the site about everyday, but mostly read (lurk lol) But ive been chiming in every now and then. These are a few pictures of me and my new dog Andy. He is a rescue and is seriously the sweetest dog maybe ever. He does need a surgery that is going to cost me a pretty penny, but its worth it, hopefully that will be the end of my hardships.
This is the car ride home from the shelter, you can see he is already pretty happy to go wherever it is he is going, he didnt know, because he couldnt see
This is when we got home, he was already at home the second he walked through the door, and yes he put himself there, he likes to cuddle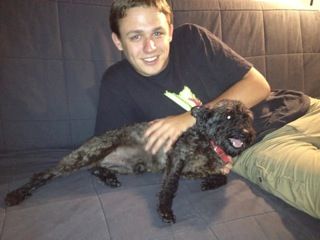 This is a week or so later at my girlfriends apartment, he is sitting with me again, which he always does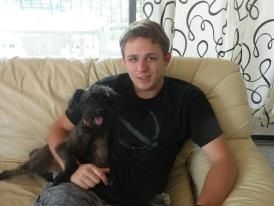 Same occasion
He is a really good dog, ive had him for about a month and a half. He definitely makes my life alot better. I do need to bring him in for a semi serious surgery sometime soon, that sucks, and hopefully it goes well. Just wanted to share his pictures with everyone. Im in there too, so you have to deal with looking at me too.
Thanks
John