I'm sure most of you on this forum have some wonderful pipe memories. I will share one of mine with you.
I guess my most precious pipe memory involves my son. It was 21 years ago, and it was my birthday.
My son, who was 7 yrs. old at the time, had been out playing with his friends. All of a sudden he came running in and asked me in a hurried voice, "what time does the drugstore close dad!"
I asked him why, and he said "because I need to get something!" Well, he didn't want to go into what he wanted to get, so I had an idea it may involve me. He ran and got some money he had been saving from his room, and I carried him up to the store, We began roaming around.
He asked me if I wanted to get Mom anything. I said no. Then he asked me if I wanted to look at the magazines. I took the hint then, and said, "Oh. Ok. That's where I'll be if you need me.
I stood there quite a long time, and wondered what he was doing. He finally came over to me and I could see the embarrasment on his face. There was a look of worry too though.
He asked me if he could borrow $1.25 cents, because what he wanted to get cost more than he had.
I said sure. He looked so relieved! Lol. He went up to the check out, and I could see him talking with the check out lady. He had trouble paying for the item. I walked up, and she looked at me. I just noded my head, and she smiled and checked him out. We went back home. He thanked me, and ran into the house. Later that evening, he came up to me with a big smile, and said "I have a present for you Dad. Happy birthday!"
I opened the package which was wrapped in some old Chritmas paper, and saw that it was a small Dr. Grabow pipe.
He was so proud to be giving me something he knew I really enjoyed. I told him " hank you son", and hugged him for a long time. I told him I really need another pipe, and this one was just what I had been wanting.
I have had many pipes over the years. Some were made by the best pipe makers in the
world, but none of them will ever hold a place in my heart like that little Dr. Grabow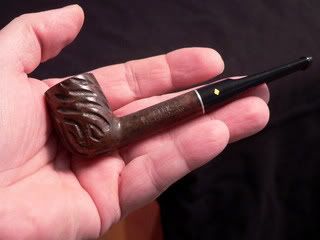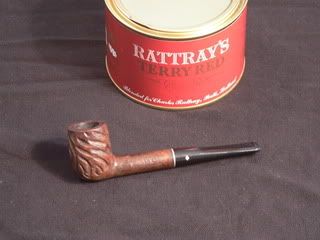 I truly hope that the rest of you have a pipe memory that you can cherish for the rest of your life. I feel blessed to have been able to share a special time with my son.
He is 28 yrs. old now and lives in another state, but we were talking by phone the other day, and he brought that story up, and asked me what ever happened to that little pipe.
I told him that I still have. Nothing would ever cause me to get rid of it. It was my most precious pipe.