555 Santa Cruz Avenue
Menlo Park, CA 94025
(650) 327-7473
Hey guys - so me and my buddy (who I introduced pipe smoking to and have been trying to get to sign up for this forum) decided to visit this tobacconist after he sent me this image: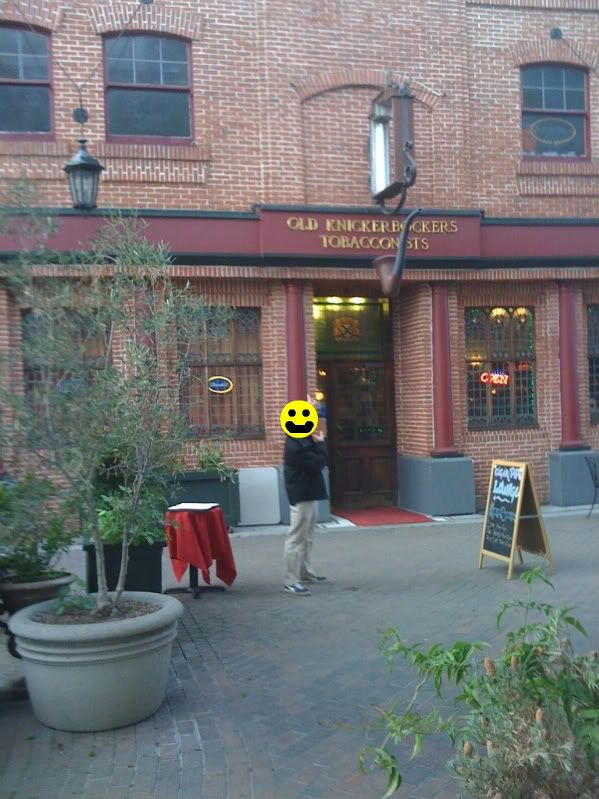 Well, I just had to go - it looks like an old world building and my kind of place. Upon opening the door, I was met full blast with a hazy room and cigar smells. I was distraught at first - believing this place to only be a cigar shop, but like an M. Night movie, there was a twist, but unlike his movie, it's a good one.
I wish I had taken more pictures - but I was already too excited when I hooked a right and looked at their pipe section. Though only one wall about 15 feet wide, they had many many many masoned tobaccos. I felt like someone had opened up the top of my head and dumped tobacco in - I didn't know where to start. I would say they had about 30 open for the customers to open up and take a whiff.
The etiquette of the store is that if you smoke inside, you must spend at least $10. This is to keep people from coming in and smoking a cigarette and also decided not strictly enforced. I asked the guy working, whose name is also Kevin, how much a sample was. He told me, "Grab a pinch, it's free." Wow, I must say - even though I have to spend $10, I can already see I'm going to enjoy this place. One that I picked up and had to try was called Fruit Tart - go ahead, laugh it up, funny name, but a fine aromatic that smelled like all sorts of fruit and smoked nice and cool, very mild and smelled absolutely wonderful; they even had one called Bahamian Rhapsody which quickly hit my face like the Hawaiian sun.
My buddy, who will be referred to as Chunkie, despite the fact that he is nothing but muscle, decided to go for Black Heath. The jar looked like the embodiment of hell's ashes - this thing was black as midnight and scary with a name like Black Heath. He loaded up and smoked - it was a very cool smoke, as he described it and absolutely tasty. I also gave it a few
fs and I'll be darned - mild but sweet aftertaste. We later found out it was just black Cavendish - which makes me wonder, are all tobaccos that are straight black Cavendish decidedly the same? Needless to say, I bought an ounce to help fulfill the $10 I had to spend in store, $3.50 and some change + a few beverages and some pipe sweetener later, I had fulfilled the minimum.
The next tobacco I sampled was the Spicey Vanilla - it was spelled that way, and boy, was it good. It had just enough vanilla and it wasn't overpowering, very good smoker and no bad aftertaste. I absolutely will be finding out who makes it or buying an ounce the next time I'm out there.
Now, while this place is predominantly cigar smokers - the patrons are actually pipe and cigar smokers. The Spicey Vanilla was a recommendation from one of the gents sitting in the lounge and Kevin himself was a pipe smoker; he even brought out two Bjarne pipes that he owned to show us - I was impressed and then wanted to buy one instantly, hahaha.
Here are only a few of the pipes I took a picture of, the other pipes didn't interest me too much but I did notice they sold Hardcastle, Savinelli, and a few others I'd not heard of. Also, I did not know that CAO used to make pipes (can anyone chime in on this?).
These pipes were in the $300-500 range. I had to make one of the pipes work safe, so I blacked it out for you guys. All in all, a B&M I'll be visiting again.