In January I ordered my second pipe from Eric Paulson. The first was a Devil Anse interpretation. In my opinion, Eric has one of if not the most accurate version of the style. I was really impressed with the first pipe. It is probably my favorite and most used pipe at the moment. I knew I was going to order from him again.
I am finishing my education specialist and master's degrees in school psychology (I'm already certified and working in schools under supervision) in a couple months at Florida State. I also got my bachelor's from there. All in all I've been bleeding garnet and gold for nearly 7 years. I am not a jewelry guy per se. Usually I am just adorned with my wedding ring. So, I decided that a college ring wasn't for me. Instead, I contacted Eric to make me a pipe with FSU colors in mind. Settled on a red billiard with and tortoise shell lucite stem and a black shank ring. Just got it in the mail today.
Only downside is that I've had a respiratory infection for a few days (working in a school with kids, which are basically walking biological weapons) so I won't be able to test drive it for a couple weeks.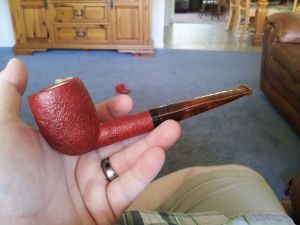 I really recommend checking him out. Great communication and open to ideas. Pipes are well built.