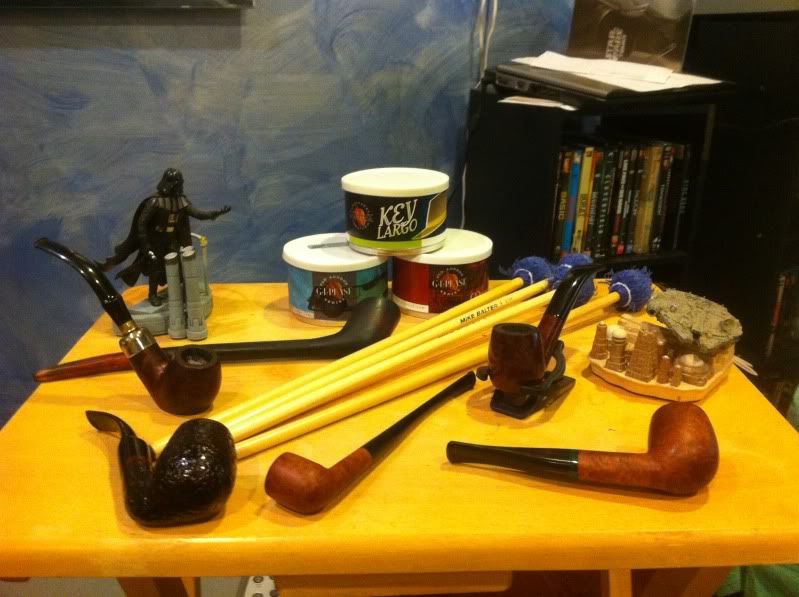 I decided I wanted to put up a more formal introduction. My name is Anthony. I'll start with the boring: I graduated from the University of Dayton with a Bachelors of Music in Music Education in December 2010. Currently I am teaching at Leggee Elementary School in Huntley, IL. K-2 Music for the rest of the year. This is actually my sister's job but she's out on Maternity leave till next year. This works out nicely for my bank account. I plan on attending Graduate school for Jazz Studies and then making a decision on if I want to go back to teaching HS or something and perform when I can, or try my hand at Doctoral school so I can teach at a University. In either case, playing is extremely important to me. I am a percussionist. My focus is Jazz Vibraphone, but I also love my Kit (all styles), and all things percussion. I own a Jenco Vibraphone, Gretch Catalina Jazz Kit, a Cajon, a Djembe, and lots of percussion toys.
My other interests include Star Wars, Video Games, Star Wars, TV/Movies, and lots of Star Wars. When I'm not practicing, I like to play computer games, or watch a good TV Show. I also enjoy working out. I fish when I can. I really like dark beer, but drinking it fills me up to much. Fortunately I have a love for Scotch so that's what fills my glass most nights. Nights when I play D&D with my friends, I get my beer fix. When not drinking booze, it's coffee or orange juice.
I like to describe myself as a pleasant mix of Han Solo, Indiana Jones, and Greg House...with a little of me thrown in!
My friends and I began smoking cigars when we began turning 18. Being a younger one in the group, I actually started at 17 (YIKES!) We became big fans of Acid! cigars. Then we all soon went off to college, slowed down smoking for money reasons, and my friend who went to the University of Chicago met a kid who introduced him to Pipe Smoking. For us, it was a much more economical choice than cigars. He bought me my first Cob. We started smoking something GL Pease, honestly don't remember what was first, and loved it. Been a pipe smoker ever since. As our taste in pipe tobacco refined (basically by touring Greg's work, with a few others) we all found we greatly disliked Acid! cigars. My current favorites are Padron 1964s, Maduro Wrappers. That first year, my same friend bought me my Rattray's (pictured on the pipe stand) for Christmas. I still don't have a strong preferance of Virginia v. Perique v. Oriental v. Latakia and seem to like a lot of different blends. Blends I know for sure I've had include: Cairo, Abingdon, Charring Cross, Caravan, Cumberland, Samarra, Union Square, Lagonda, Meridian, Quite Nights, Chelsea Morning, JKP, Triple Play, Key Largo, Maltese Falcon, and Aragorn. I've had non Pease blends as well, but the only memorable one is Peterson's University Flake. My current Favorite is Jack Knife Plug. As you see in the picture, my currently opened tins are Key Largo, Lagonda, and Meridian. Just opened the Key Largo tonight....delicious. Roasty and complex. Very Full.
A bit on the rest of the pipes:
Bottom Left: That's a "Real Briar" no name that I picked up at one of the Chicago Shows I went to. I had driven in from school in Ohio and left my pipe at school
but accepted this as my 2nd pipe (2nd because somewhere along the lines I lost my cob...sad day)
Bottom middle: No name "ITALY" that I picked up from The Warf in Dayton, OH. A very nice shop that I spent to little time at when I was at school. This is a great short smoke pipe.
Bottom right: Chacom pipe from the 2011 Chicago Slow Smoking Competition. My only straight pipe and I use it often.
Top Left: Ranger by MacQueen. This is a fun pipe for me. I bought it based on it's look as I had found many very mixed reviews on MacQueen pipes, but decided I wanted one anyway because it looked BAMF. The company had many issues, loosing my order a number of times, extremely long wait time on email responses, but alas the pipe showed up. It smokes very cool. Sometimes I actually feel like I am missing some of the full flavor of my baccy with it, but I do really like the thing. I wouldn't be against buying another MacQueen, but it's not high on my PAD list.
Top middle: Genod I bought at last year's Chicago Show. A great pipe, nuff said.
Top Left: This is my Rattray's that I mentioned earlier. Fantastic pipe, great draw, feels good in hand and in mouth. Also sentimental as my first pipe.
Well that's all for now folks! I'm bored with typing. I've had a lot of fun on these forums....looking forward to more!